This post may contain affiliate links. Read my disclosure policy here.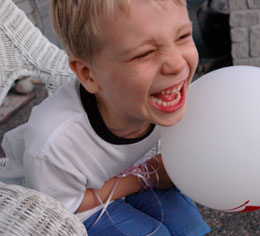 If there is one word to describe my five year old son Jackson it would have to be "intense." This little guy feels everything in extremes.
When he is happy, his face lights up and he bounces around like Tigger. His joy is unrestrained. But if the slightest thing should go wrong – watch out – tears, screams, wailing, etc will happen faster then thunder follows lightening.
Lately this quality is manifesting itself in declarations of "this is the best day ever" or "this is the worst day ever." In fact, every day this week has been the "best day of my life." Ironically, at least one or two of these days, were at one point also, "the worst day of my life."
And the smallest, strangest things will bring about these bursts of euphoria or devastation. Simple things like winning a bouncy ball out of the gum machine or getting to have pizza for dinner are apparently enough to qualify the rest of his life as pale in comparison.
But the great thing is – if Jackson is having "the worst day ever" – no worries – it most likely will turn into "the best day ever" in a matter of hours. 🙂