This post may contain affiliate links. Read my disclosure policy here.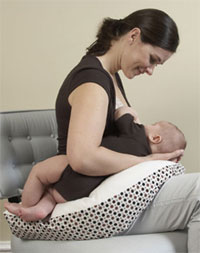 Are you pregnant or nursing a young baby? If so, you are going to love this…
Do you have a friend whose baby shower is coming? If so, this is the perfect gift…
The Blessed Nest Nesting Pillow!
If you've ever nursed a baby, you'll know that positioning the little munchkin on regular pillows or on an ordinary nursing pillow can be a challenge.
So when I saw this uniquely-designed nursing pillow, I knew we needed to spread the word. And now that I have one of these pillows in my hands, I am convinced that all new moms deserve one.
It's entirely different than any other nursing pillow. It is flexible and molds to your body and your baby's body to softly cradle and support your baby while you nurse.
The Nesting Pillow is filled with organic buckwheat hulls. The hulls are shaped like little pyramids that are able to interlock together while still allowing air to circulate. This characteristic assures stability and flexibility.
Not only will you use this pillow during nursing, but you can start using it while you're still pregnant and even keep using it after your baby is finished breastfeeding. Here are some of the ways you might use your nesting pillow:
A support pillow while pregnant — you can use it to support your belly or your legs
A support pillow during childbirth
A pillow for your head or your child's head
Propping up your baby to help him sit
Breastfeeding
Daddy bottle feeding
Extra help for older siblings holding baby.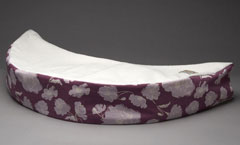 Head on over to Blessed Nest to see more pictures and even watch a video testimonial of the Nesting Pillow in action.
If you want a chance to win the All Organic Nesting Pillow in Morning Glory, leave a comment here to be entered to win. We'll draw a random winner on Friday, Aug 31st. (Contest is open to both US and Canadian shipping addresses.)
Also, Blessed Nest is giving all 5 Minutes for Mom readers a special 10% off. Just use the coupon code 5MfM10 when purchasing your Nesting Pillow.
Happy Nursing!
Update: The winner is #128 – Cheryl