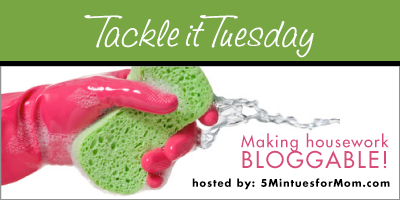 Do you work on a laptop at your kitchen table?
I have a feeling many blogging moms or work-at-home moms often end up with a laptop on their kitchen table. But I also think that NOT many of those moms let their kitchen tables turn into the messes that exist at Janice's house and my house.
I don't have an excuse at all.
I do have a desk in our office downstairs, but when my desktop PC died a few months ago, my desk has turn into a clutter collector and I haven't sat at it since.
Instead I've been at our kitchen table with my laptop. And what that means, is that my kitchen table struggles to see it's purpose as a place for family meals. It becomes my workstation and yet another catch-all for clutter.
Yes, it's embarrassing… take a look…
This Saturday, when Julia woke up sick on her birthday we had to cancel the party we had planned at Janice's house. Then on Sunday, she felt better and wanted her party. So we quickly threw together a little party with her best friend Madison and Madison's little sister Avery.
And I had to quickly tackle that table!
Our kitchen table acting more like a kitchen table…
(But do I dare admit, that as I type this, I am currently at my kitchen table and it already has started to collect clutter. Sigh.)
If you're wondering where our family eats, we have a little table where Julia and Sophia like to eat and Rob and I often clear just enough space for our plates. And when we do want the table clear, I have to scramble to clean the table. Such is life these days for this crazy busy work at home mom.
What are YOU tackling this week? Link up show off…
Tell us what you're up to with all your other tackles… housework and otherwise… add your link to your tackle in the MckLinky below!
Each week on Tuesday, we are posting before and after pictures of a project or trouble area that we tackled this week.

Find out more about Tackle It Tuesday here.
The project can be little or big – whatever you want.

Basically, Tackle It Tuesday is about giving ourselves incentive, deadlines and satisfaction in getting our household tasks done.

(It doesn't even have to be housework… just whatever is on your To Do list.)
If you tackled a project this week, just add a comment and add your link below.
Written by 5 Minutes for Mom co-founder Janice.
You get our feed, right?
Did you know that Susan and I also have a pedal car store and a rocking horse store?