This post may contain affiliate links. Read my disclosure policy here.
Show me a blog with good photography, and I will linger and soak it all in. Make that blogger a great writer and a woman I can admire – and I am hooked.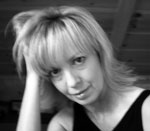 Such was the case when I landed on "Slurping Life" during our Ultimate Blog Party in February. From the moment I saw Melody's site, I knew I had found a great blogger and a woman from whom I could learn a ton – about mothering, photography, writing and, most of all, courage.
Melody is mom to four boys, one by birth and three by adoption. Her busy world includes looking after the many needs of her three youngest boys and their "special purposes," as they live life with autism, ADHD, bipolar disorder and cerebral palsy.
In the middle of it all, Melody somehow still makes time to blog. And now, I am thrilled to announce, she has also decided to join our Faith Lifts team as a regular contributor. (She will be taking over my Saturday spot as I prepare to be out of control busy with my newborn due in early October.)
To help you get to know Melody, I asked her a few questions about her life as a mom:
Janice: Melody, you are mom to four boys! What is life like at your house? How do you make time to blog?

Melody: Janice, I'm laughing. At this very moment a 40 pound puppy followed closely by three boys, average weight 65 pounds, bounded over the sofa, landed in a heap at my feet and began wrestling. That sums up our life nicely. Oh, the twenty-six year old son…when he's at the house, picture the same scenario with a six-foot 190 pound all-boy man in the mix.

We also manage to squeeze in home schooling, daily chores and tons of hugs. Did I mention there's laundry? Time to blog is a challenge. I'd have to call it spurt blogging…a spurt of time stolen here and there.

Janice: You mention on your site that your three youngest sons are adopted. Can you tell us a bit about being an adoptive mom?

Melody: You know, I don't often think of myself as an adoptive mom. What I mean is while I advocate adoption and proudly proclaim our adoptions; my boys are all my sons. There is no difference between my love for our biological son and our sons by the gift of adoption. Just as with our biological son, our younger sons were our children from the moment of their conception. God created them for us…I have no doubt of that.

Janice: Your three youngest sons have a variety of special needs – autism, ADHD, bipolar disorder and cerebral palsy. How has mothering these special boys changed you as a person and as a mom?

Melody: In the mind of most people the words "special needs" brings only the image of taking, but our children give far more than they take. Because of them I am a more tolerant person in that they constantly show me that my way is not the only way, and that the harder path is also the most rewarding. Additionally, they have confirmed my belief that no obstacle is too great…there is always a reason to smile…and unconditional love really exists. Plus the boys have helped tremendously with the creation of my laugh lines.

Janice: What words or encouragement or tips can you offer any other moms out there who may just be starting out the journey parenting children with special needs?

Melody: Your child is a precious gift and not a diagnosis. Love your child and trust your instincts. While you follow the recommendations and guidelines of doctors and therapists remember that no one knows your child better than you. Research and read. I strongly suggest networking with other parents whose children live with similar special needs. Never forget to make time for yourself. If your needs are not being met, there is no way you will meet the needs of your child. While parenting our children is a blessing I wouldn't miss for anything, it is challenging and stressful…you cannot do it alone. If you pray, then pray.

Janice: That is great advice for all of us moms! On your home page you say:

"In sharing photos and a few words from our day to day life, I hope to help you look at your life with humor and with the reality that you do what you can do when you can do it…then you eat chocolate and drink wine."

Your site totally does that for me! Thank you so much for your blog and for joining our team at Faith Lifts. I can't wait to read your posts…

Melody: Thank you. It's nice to know Slurping Life is hitting my goal amidst the lovable insanity that is my life. Janice, I'm humbly honored to join the inspirational women of Faith Lifts and look forward to sharing the thoughts God lays upon my heart.
So – if you haven't already headed over to Faith Lifts to welcome Melody, please do. And remember you will find Melody over there every weekend.