This post may contain affiliate links. Read my disclosure policy here.
Several years ago I took a few classes at The Art Institute. One of the classes was an intro course to Photoshop CS2. Although we learned how to handle graphics, as opposed to photographs, I had a blast diving into Photoshop. Unfortunately, I installed the software too many times, due to computer viruses and such, and found myself no longer able to use my student copy of CS2.
As we have introduced photography posts to our 5 Minutes for Mom site, I have loved reading the tips and tricks from our team of writers. I had been dying to get my hands on another copy of Photoshop at some point in time, to start fiddling around with my digital photos, bringing them to life in new ways.
To my delight, we were asked to take part in a review/giveaway for one of the best photo-editing programs for busy, blogging, memory keeping mommas, Adobe® Photoshop® Elements 8.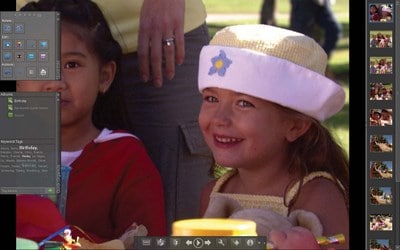 With Adobe® Photoshop® Elements 8, photo editing is a breeze. In a few simple steps you can adjust color, contrast and lighting, get the best exposure and resize images without worry of distorting them, and compile them all into custom photo albums or scrapbooks.
With the Adobe® Photoshop® Elements 8 and Adobe Premiere® Elements 8 Bundle, you also get to enjoy Premiere® Elements 8, which takes editing and enhancing video to the next level.

Simply choose a theme, and InstantMovie automatically finds your best clips, trims away bad footage, and edits the clips together with coordinated music, titles, effects, motion graphics, and credits. Or customize your results with less effort using automated options that trim unwanted footage, fix bad footage, and intelligently balance your audio elements.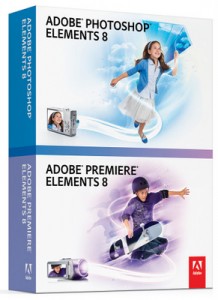 The bundle usually retails for $149.99, but RIGHT NOW, you can head on over to Adobe.com and purchase the bundle for $99.99. Or you can purchase just Photoshop Elements 8 for as low as $69.99. This special spring promotion ENDS TODAY! If you have been thinking about purchasing Photoshop Elements, now is the time to do it!
I haven't had as much time as I had hoped to play around with my Adobe® Photoshop® Elements 8 and Adobe Premiere® Elements 8 Bundle. So far though, I have found it to be very user friendly and so much fun!
For those of you who have yet to give Photoshop a try, please don't be intimidated. Once you spend a bit of time familiarizing yourself with it, you will be hooked. I promise! I even searched through our older posts to try my hand at this fun technique the our photography writer, Erin, shared with us back in March.
Of course we know how much all of you blogging ladies LOVE editing photos and making movies, so we HAD to make sure we had a copy of the Adobe® Photoshop® Elements 8 and Adobe Premiere® Elements 8 Bundle to give away. That's right one lucky reader will walk away with quite the editing tool.
To enter, please leave a comment below. This giveaway is open to both US and Canadian shipping addresses and will close on Friday, May 21st. We will announce our winner on Saturday, May 22nd.
Please see our site's Terms and Conditions of Use for our complete giveaway rules.
We were provided with one Adobe® Photoshop® Elements 8 and Adobe Premiere® Elements 8 Bundle to review as well as an additional copy to use for giveaway purposes.