This post may contain affiliate links. Read my disclosure policy here.
KooKoo CaChoo couldn't be cuter…
Super soft, fun and adorable – this blanket is simply perfect!
Not only do I get to prepare for a new little baby – but I get to prepare in PINK! After having a boy, all this girl stuff is a new treat. And the blanket Karma from KooKoo CaChoo sent me for my new little one is so fabulous! I am totally in love with it.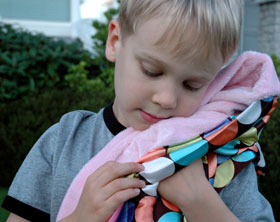 (Even Jackson thinks it is so soft and sweet – can't you just picture him snuggling his new baby sister in it?) 🙂
Karma Christensen, mom of two little girls, started out making blankets for her daughters but soon found her blankets in high demand. So she started her own business, KooKoo CaChoo Baby Blankets and now we all get a chance to cuddle up with one of her gorgeous creations!
Karma makes her blankets with luxurious, high quality Minkee (a soft fuzzy fabric that is essentially an imitation mink) and beautiful satin. She offers funky, beautiful colors and combinations – and you can even custom design your blanket, choosing your favorite color and fabric combinations. With all kinds of colors, (including tons of great designs for boys too) your only problem will be choosing!
If you want to indulge your little girl or boy in one of KooKoo CaChoo's blankets, leave a comment here at this post. The winner gets to choose a blanket of their choice.
We will announce the winner in two weeks. (Edited to add: This contest is open to both Canadian and US shipping addresses.)
Update: The winner is #157 Cole's Mama