This post may contain affiliate links. Read my disclosure policy here.
Do you know how many moms ask us how they can work at home and actually earn money?
(No you don't have to answer… but you can sit there and ponder it for a bit. Basically, it's a LOT.)

Honest work at home jobs can be tough to find. Sometimes I describe finding the right work at home job like finding a diamond in your garden. It's rather rare.
But there are ways to work at home and one of the quickest ways to start earning an income while working from home is to do project based contract work. The projects can be writing assignments, graphic art projects, social media consulting or whatever skills you offer.
The key is finding the projects and we believe we've found a way to help connect you with legitimate work-at-home projects.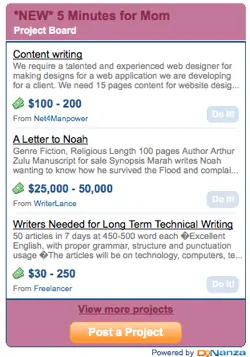 We have partnered with Donanza, which is "the world's biggest search engine for online freelance jobs", to create a project board here at 5 Minutes for Mom.
Our Project Board will scour all the top freelance job sites from all over the web, filter the results and show you relevant project opportunities. It pulls in projects from sites such as oDesk and Elance as well as private project listings that companies can add directly to our project board.
And it is completely FREE for you to use to search for as many projects as you wish.
Companies who want to list their projects on the board will be asked to pay a small fee for listing their project, but it is completely free for those searching for projects.
You can get to the project board anytime by clicking on the Jobs menu in our top nav bar or clicking on the widget in the right sidebar.
Browse around and check it out for yourself…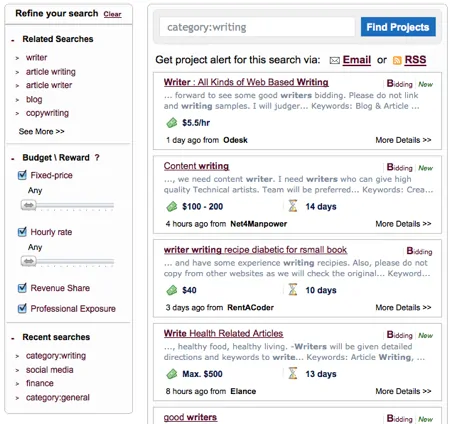 Please remember when using this project board that we are not responsible for any of the projects listed. These projects are generally submitted by 3rd parties through external sites. Also, while some projects may be listed exclusively for our community, we again are not involved in the business relationship between you and the company offering the project.
Also, while we're talking about work-at-home opportunities, I want to remind you about the training program my friend Ashley set up specifically for moms… It's called Promoting Mom. (I am an affiliate for their program.) You can read my previous post about the program here.


Written by Susan, co-founder of the mom blog 5 Minutes for Mom
You get our feed, right?