This post may contain affiliate links. Read my disclosure policy here.
We're seeing red here at 5 Minutes for Books. This is review two of two by Jennifer Donovan. You can find the review of the novel Woman in Red here.
The Little Red Book of Wisdom by Mark DeMoss is an inspirational read. He wrote the book in response to the example his father had been to him. His father passed away when DeMoss was only seventeen, and as the author's children began reaching that age, he realized that he wanted to be able pass on what he has learned through the years as well.
This book is written within the context of his Christian faith, and specifically as a result of his claim to the promise in that Bible that says, "If any of you lacks wisdom, let him ask of God, who gives to all liberally and without reproach, and it will be given him." He has studied the Bible for many years and been guided in that way, but the lessons that are in this book are not simply repeated platitudes from God's word. Mark DeMoss is the successful founding officer of a public relations company. People pay him and his organization to tell them how to best manage their image or a specific crisis situation, and one of the lessons that he teaches is "everyone is in PR."
Specific lessons in this 167 page highly-readable little red book include
finding and keeping your focus in life
getting out of your comfort zone
write letters
having integrity
seek out older people
listen more than you speak
no deathbed regrets
and so much more.
The volume is peppered with illustrations from his own business interactions, his family, and men and women who he admires.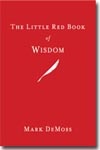 This book should be a must-read for anyone starting a new endeavor: entering the workforce, a new career path, marriage, parenthood, etc. It would be a wonderful book to read with your spouse (and even teenagers) to help figure out where your family stands on these standards. Since it's written by a man, and very factual (as opposed to emotional), it would even appeal to the man who does not generally like "self-help" types of books.
If you are curious, I recommend that you click over to their website, which contains more information about the author and the book, including excerpts from several chapters.
We have two copies to give away (U.S. only for this giveaway).  The winners' names will be announced next Monday.  UPDATE:  The author has donated FIVE more copies, so I will leave comments open to win until Sunday.
Congrats to last week's 5 Minutes for Books winners.

Michelle at Heart of the Prairie won The Great American Supper Swap. If you didn't win, you can click the link to buy the book and catch more of Trish Berg as she makes her first national television appearance on The Harvest Show on August 7. Click the link to check for affiliates (including DirectTV and other regional channels).

The winners of Fifteen Candles are