This post may contain affiliate links. Read my disclosure policy here.
The Bathroom Catch-All Goes Bye-Bye
Oh, the evil pull of the catch-all.
My mother always said, "A place for everything and everything in its place." Well catch-alls are what happens to us sinners recklessly breaking that rule. The catch-all is the place for all those items that don't have a place – or for those items that just didn't make it back to their place.
A catch-all is simply too tempting for us procrastinators.
So today I am ridding myself of one more temptation. I am removing Jackson's old diaper change table/bathtub which has been cluttering our bathroom unused, except as a catch-all, for the last year and a half.
Here it is before:
The Change Table – Before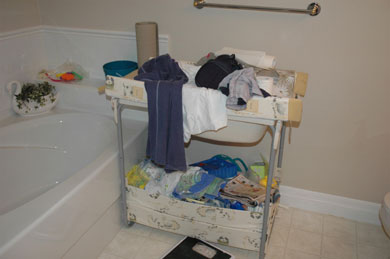 This is some of what came out of it: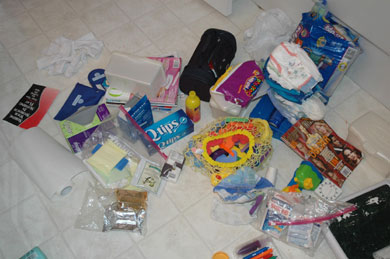 But wait – where am I going to put this stuff?
Some of it needs a home.
Ok – I can't tackle every drawer and cupboard in there today – so I will do one.
I chose one cupboard that actually appeared somewhat tidy if one just opened it. But hidden behind and in the drawers was a lot of stuff.
Here is some of the stuff that came out of that cupboard. Aack! How am I going to get this all done?!?
Some of the cupboard contents: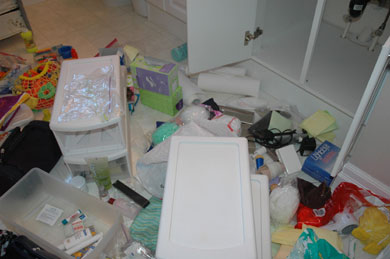 But I persevered. And here is the finished cupboard: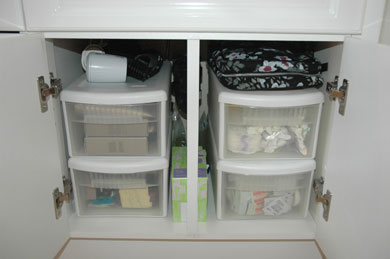 And here is the bathroom – sans catch-all: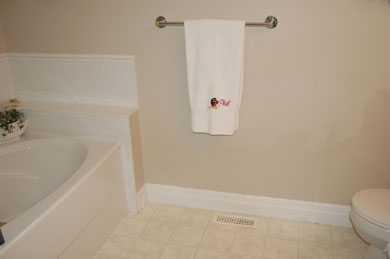 Woohoo! Pretty exciting isn't it?

Or as Jackson put it, "Wow this looks so much better!"

Join Us For Tackle It Tuesday

Each week on Tuesday, we are posting before and after pictures of a project or trouble area that we tackled this week.

I will link to any of you who are also playing along, so add a comment and/or email me. Find out more about Tackle It Tuesday here.

The project can be little or big – whatever you want. Basically, Tackle It Tuesday is about giving ourselves incentive, deadlines and satisfaction in getting our household tasks done.