This post may contain affiliate links. Read my disclosure policy here.
Oprah recognizes that motherhood is one of the hardest jobs.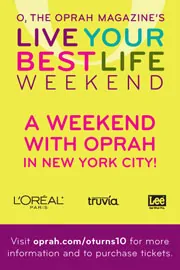 This Mother's Day weekend, it's time for you to take some time and celebrate you!
We are excited to announce an exclusive discount to the Live Your Best Life Weekend for all 5 Minutes For Mom readers.Visit www.oprah.com/oturns10 and enter Mom25 promo code for a special 25% discount.
Tickets are selling fast so take advantage of this exclusive offer today and sign up for an unforgettable weekend!
If you don't live in New York, you can still participate in the Live Your Best Life weekend.