This post may contain affiliate links. Read my disclosure policy here.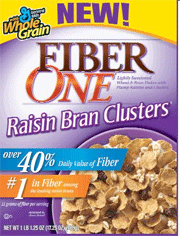 It is simply good fun to give away prizes. We love making our winners so happy. But each time we draw winners, I feel so badly that I can't give prizes to everyone.
So when General Mills offered to give us 25 boxes of their new yummy Fiber One Raisin Bran Clusters cereal, we said sure. That is 25 winners!
If you haven't tried this new high fiber cereal, it is definitely worth a taste! (And 25 of you are getting a free box – yeah!)
It is packed with 11 grams of fiber in a serving and lightly sweetened enough to entice kids (and adults.) 😉 With this much fiber, one bowl provides 40% of your daily recommended fiber intake.
The company sent Susan and I each a box to sample and it sure is a tasty way to get your fiber. (When he was trying his first bowl, Jackson jumped up and started doing a crazy little dance. "What on earth are you doing Jackson" I asked him. "It's my yummy dance. I have to do it every time I eat it cause it is so yummy," he explained before he quickly sat down and devoured the rest of his bowl.)
If you want to give it a try (or it you are already a Fiber One fan and you want a free box) then just leave a comment here at this post to be entered in the contest.
This contest is open to both Canadian and US shipping addresses. We will draw the winners in one week.