This post may contain affiliate links. Read my disclosure policy here.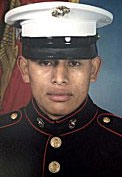 He was one of the first to die…
It seems so long ago when the war started – so many have died since. But in those first few hours of war, Marine Lance Corporal Jose Antonio Gutierrez became the second casualty and died in Southern Iraq at the young age of 22.
Gutierrez was an orphan from Guatemala who survived on the streets until he made his escape on freight trains and eventually illegally entered the US from Mexico at age 14. He slept on park benches and ate at shelters until a social worker was able to move Gutierrez into a foster home.
In 2000, Gutierrez finally found some rest with his fourth foster parents Nora and Marcelo Mosquera (who were immigrants from Costa Rica and Ecuador). He attended high school and then played soccer for Harbor College where he studied architecture. He sometimes joked to his family that someday "people will know my name." He never forgot his sister in Guatemala, calling her and sending her money.
He had a strong faith in God, often encouraging his siblings to attend church. In a poem he wrote in 2000, "Letter to God," that was read at his funeral, Gutierrez wrote in Spanish, "Thank you for permitting me to live another year, thank you for what I have, for the type of person I am, for my dreams that don't die… May the firearms be silent and the teachings of love flourish."
Jose Antonio Gutierrez fought through an entire life of struggle and pain and ultimately died a hero for a country that was not yet his. He did not succumb to the horrors he had experienced, but instead fought for a country he loved and hoped to give back to. Gutierrez once said, "From what I've seen," Saddam has to be confronted… It's my job. It's also my duty."
Gutierrez was finally granted his American citizenship posthumously.
His life story has been made into an award winning documentary called, The Short Life of Jose Antonio Gutierrez.
You can read more about Marine Lance Corporal Jose Antonio Gutierrez on the Wall Street Journal's, Opinion Journal as well as on CNN Heroes of War.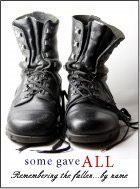 This tribute is part of Some Gave All.
To find more tributes or to join in and write a tribute on your blog, visit www.some-gave-all.com. The administrators are also looking for people who would like to join their team to help run Some Gave All. So please contact them if you are interested.
Tragically, the list of the fallen continues to grow daily and we need to remember these heroes.