This post may contain affiliate links. Read my disclosure policy here.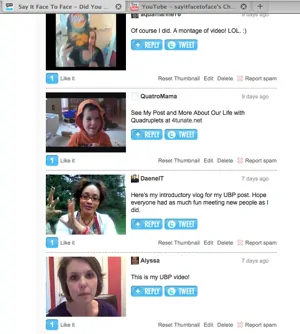 If you made a video for the Ultimate Blog Party or the UBP 10 After Party, you can also add it to this conversation thread over at Say It Face To Face.
Our video conversation site Say It Face To Face is a great way to draw extra attention for your videos.
Want More Links?
A NEW feature at Say It Face to Face means you can now add links in your conversation starter and replies. (Yes, you can add html anchor tags in your video conversation starter or reply description.)
These are followed links… that means they count as backlinks in Google to your site that give you Page Rank. (If that doesn't mean much to you, just know that it is a GOOD thing. LOL)
Say It Face To Face is a community vlogging site and is all about YOU. The goal is to help you build new and stronger relationships with like-minded bloggers.
So turn on your webcam and join the conversation. (And reuse the videos you're already making by adding them to Say it Face to Face.)
And, just in case you haven't seen it yet… here's our #UBP10 After-Party video of our kids. I love that I caught Julia on the phone talking to her best friend Madison as she was trying to explain that she was at a Blog Party. It was soooo funny… you can hear Janice cracking up in the background!
Remember to Join the UBP After Party
If you haven't yet added a post to our UBP After-Party link up, just write a post linking to at least 3 new bloggers that you met during the party and add your link.
Janice and I will continue visiting blogs in both the UBP link lists and the UBP After Party link list in the coming weeks and months.
Talk more soon…
Susan