This post may contain affiliate links. Read my disclosure policy here.
In my Tackle It Tuesday post this week, I "tackled" my glucose tolerance test for Gestational Diabetes. I had failed my initial glucose screen and had to go back for the three hour fasting test.
Your comments were so encouraging and helpful – thank you so much!
I promised to let you know my results – so here is the news: Not great – but not the worst. I haven't spoken to my doctor yet, but according to the receptionist, (my Dr.'s office has the nicest receptionist in the entire world!) I failed the second value. So I do not have Gestational Diabetes, (I needed to fail two of the values, not just one, to be diagnosed with GD,) but I am carbohydrate intolerant and will need to adjust my diet etc. I am also at risk of a larger baby and so they will monitor that as well.
I figured something was wrong – I have such unquenchable thirst and fatigue and I have to pee every twenty minutes – and so I am not surprised at my results. I am relieved that I only failed one of the values and do not have to do the daily blood tests etc.
I am frustrated that I didn't get to talk to a doctor about it. The doctor said I could wait till my check up next week – but I really want to ask more questions and find out more about my situation. Oh well – at least it isn't full blown GD. I can wait.
As for Susan, tonight she was back in the ER with pain, cramping and blood in her urine. It appears that she is having more kidney stone trouble. The poor thing! After monitoring the baby and checking for pre-term labor, they sent her home to drink lots of water and hope it passes without too much pain. The doctor said the blood is because the stone is on the move. (They will likely do another ultrasound tomorrow to check her kidneys.) So we will see what happens. I feel so bad for her. Kidney stones and pregnancy should never go together!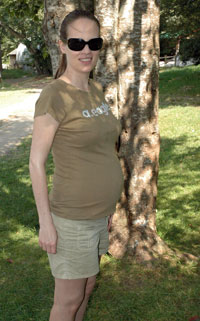 So in all, we are surviving over here. We have a couple little bumps in the road – but nothing life threatening! Our babies are growing and they appear to be healthy so far. We are so grateful.
I am sorry that I don't have any twin pregnancy photos for you. Susan and I rarely get our photos taken – especially together. We hate being the subjects of photos – so we just take lots of pictures of the kids. (When Susan was pregnant with Julia, she didn't have any pictures. So at three in the morning when her water broke, she quickly got her husband to take some photos before they left for the hospital. When I was pregnant with Jackson, we took the only photos of me less than a week before he was born.) At camp two weeks ago, my friend Crystal took a couple quick shots of me. So here is a look at my pregnant belly at 28 weeks. I promise to get some shots of Susan and I together soon. (Our bellies are getting bigger every day!)