This post may contain affiliate links. Read my disclosure policy here.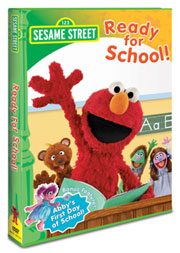 Elmo is getting ready for school in "Sesame Street's" latest DVD, "Ready For School," – and we are giving TEN of you the DVD for free…
The first day of school is very exciting, but it can also be scary – even for a little monster like Elmo. So his friends are there to help.
If your little one is getting ready for that big first day of school – Elmo and his friends might just be able to help reassure your child too.
"Ready for School" helps kids prepare for their new experiences in school. In it, Elmo learns what to expect in a classroom, while Baby Bear talks about his first day at Storybook Community School. Friends Gabi and Miles, who are graduating from high school, share their favorite school memories with Elmo. They remember singing and dancing, showing their drawings to their class, and learning how to share. Baby Bear remembers how nervous he was on his first day at Storybook Community School, and how Mother Goose made him feel so much better.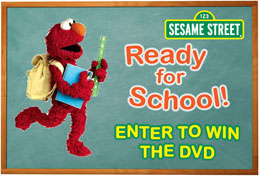 I know my son Jackson is incredibly nervous about starting kindergarten. We have long talks about what school will be like and what worries him. It is great to have extra tools like this DVD to help him talk about his fears and concerns and help him him realize that everyone worries about the big day.
If you want some Sesame Street magic to help get your kids ready for school, we are giving away ten copies of the DVD. Just leave your comment here to be entered in the draw. We will draw the winners in three weeks, on August 16, 2007.
This contest is open to US and Canadian shipping addresses. (The company cannot ship to P.O. Boxes.)

Good Luck!