This post may contain affiliate links. Read my disclosure policy here.
My absolute favorite thing about the blogging community is the way we come together to rally around causes and make a difference in the lives of others. Today there is an opportunity to do just that by giving to a fellow blogger in support of Susan G. Komen for the Cure.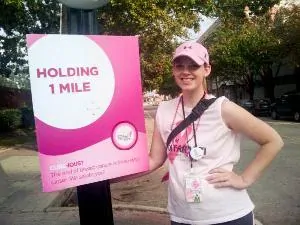 Blogger, Jacqueline Reitz, who is participating in the Susan G. Komen 3-Day for the Cure™ wrote to us about her fundraising goal of $3,000.
She is just $1,000 shy of meeting her goal, but doesn't want to give up yet. She has decided to do her best to get 100 blogs to mention her goal. All she needs is one reader from each of those 100 blogs to give $10.00. Wouldn't that be incredible if as a blogging community, we could raise an additional $1,000 for Susan G. Komen for the Cure?
The donations can only be accepted today, April 14th. If you would like to give, head on over to Jackie's fundraising page (it's all tax deductible!) and send her some donation love!
To follow her progress, be sure to visit her team's blog, which will be updated with participating blogs and donations received.
Let's see what impact the blogging community can make!