This post may contain affiliate links. Read my disclosure policy here.
The Celebrity Apprentice is one show that my husband and I enjoy watching together. In true "reality TV" form, I generally yell at the people on screen for being stupid, ignorant, or saying something that is either totally right on or completely inappropriate and rude.
There are always contestants with whom I can relate, and those whom seem far away from my normal existence — hello Rod Blagojevich who doesn't even know how to use a computer and barely knows how to use a cell phone. Even my husband's grandmother knows how to use the computer!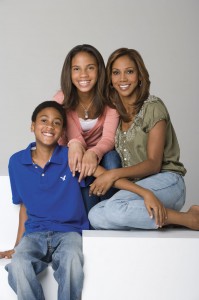 But this season I see Holly Robinson Peete and Summer Sanders competing this season, and I feel like I can relate to them. I was recently on a conference call with Holly, and I told her that she and Summer just seem like moms — hot celebrity moms, but still. She assured me that they only looked liked that because they went to hair and makeup at 7:00am, and that they don't look like that around their kids every day.
Instead of competing for the job of being Donald Trump's Apprentice (which is how the show started), in Celebrity Apprentice, the teams are still given tasks that they must complete, and there is still an ultimate winner, but each task that a project manager wins allows them to pass along the prize money to their charity.
You can tell that some celebrities have more of a commitment to their charities than others. I asked Holly if she thought her commitment to her charity was greater because her son RJ (pictured above, photo credit: Chris Voelker, VoelkerStudio.com) lives with autism.
Holly said that all of the celebrities are committed to their charities, but did say "It helps me with my conviction and it helps me block out some of the other little reality TV drama," like when Sharon Osbourne called her and Summer boring.
"But I do agree that it helps me stay focused to know that I know what families with autism experience and I'm doing it for them," Peete said.
Although Holly, a beautiful celebrity mom, seems to have it all going for her, she is candid about the effect that having a child with autism has on her. It has shaken her marriage (but not broken it), and affects her day to day routine.
Having one child on the autism spectrum affects the entire family unit. We can learn a lot through the perspectives of several of Holly Robinson Peete's family members. Not only is she raising awareness (and some money) by appearing on the Celebrity Apprentice, but her husband, professional athlete Rodney Peete, has written a book from the father's perspective: Not My Boy!: A Father, A Son, and One Family's Journey with Autism.
One day her daughter Ryan came home from school worried about what other kids at school thought of her twin brother RJ, "The kids do not understand what RJ's going through, and it's really sad. He's not connecting with the other guys. They think he's kind of a jerk because he doesn't say hi to them as soon as he's spoken to." She told her mom that it's because they don't understand what autism is.
As a result of that Holly and her daughter spoke to the fourth graders at the school, and she and Ryan worked on this children's book together: My Brother Charlie (Read my full review of the book, and enter to win an autographed copy through April 25), which tells the story about a boy on the autism spectrum, from the perspective of his twin sister.
The other thing that showed me her strong commitment to the cause of Autism Awareness (and research funding) was her dismay when Darryl Strawberry resigned. He was playing for his foundation, which raises money for autism research, and Peete's disappointment was obvious on the show. She could not believe that he would choose to leave when he had the opportunity to bring some money home for his charity.

Have you been watching Celebrity Apprentice? Or are there other celebrities whose charity work you admire?
Written by 5 Minutes for Mom contributor Jennifer Donovan. I received a review copy of Holly Robinson Peete's children's book for review purposes, but I received no other compensation. I really like to watch the Celebrity Apprentice, and I want to help raise awareness and understanding of autism.