This post may contain affiliate links. Read my disclosure policy here.
Horizon Organic® – A Fantastic Company and a Fabulous Prize…
I have fallen in love with a dairy company… and it is not only because they are giving one of you approximately $300 worth of FREE dairy products (our lucky winner will receive about 60 gift certificates for Horizon Organic products – each with a value of $4.99! That is about $300 worth of groceries – how cool is that?)

I am so impressed with this company because of its commitment to organic farming AND because it offers fantastic organic dairy products like their new DHA Omega-3 milk, the only organic milk enhanced with an Omega-3 fatty acid that helps support heart, brain and eye health. (The company sent us a few liters of this milk to sample and it tastes great!)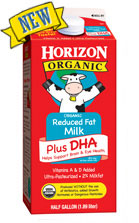 What is DHA and why do we want it in our milk?
DHA is found primarily in fatty fish and organ meats, and most Americans, especially kids, don't eat enough of these foods to get the recommended amount of DHA in their diets. But it is a tricky problem to solve – the FDA and EPA recommend that young children limit their fish intake to 3 servings/week due to potential mercury contamination. According to expert Dr. Greene, "Most American kids are not getting the DHA they need. The typical three-year-old needs about 150 mg of DHA a day. On average, they are only getting about 19 mg, a tiny fraction of what they need for optimal brain growth."
So adding DHA enhanced milk to our diets is a simple, kid-friendly solution to get your kids the DHA that their bodies need for healthy development. I am so sincerely thrilled with this concept, that Horizon Organic has totally won me over!

And so when I go to buy my DHA milk from the dairy aisle, I am also going to try out their other products. They have got all the dairy products we could want, like cheese, yogurt, butter and cottage cheese – and for the fun stuff they even have products like cheese strings, yogurt tubes tubes and ice cream.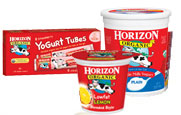 And of course all the Horizon Organic dairy products are certified organic and meet the strictest USDA organic standards. That means they're produced with no antibiotics, no added growth hormones and no dangerous pesticides. Yes – we like that!
Now that you are as excited as I am (okay – I know it is dairy for goodness sakes – but I am a mom – I get excited about things like DHA and organic farming!) make sure you leave your comment so that you can have the chance to be the lucky winner of the 60 gift certificates for FREE Horizon Organic dairy products (approx $300 value!!!)
I just wish I could enter this contest myself!
All you need to do is leave your comment here and link back to this contest from your blog (and please link to Horizon Organic as well) to qualify for the drawing. As usual, non bloggers are welcome to participate too. (This contest is limited to the US as the gift certificates are only good in the US.) We will announce the winner Thursday, July 26th, 2007. All entries must be in by Thursday, July 26th at 12am Eastern.
Good luck – and enjoy your milk! 🙂
Please Note: Due to the down time during out hosting change just after we posted this Horizon Organic contest, we extended the duration of the Horizon Organic contest for another week to give you all extra time to get your comments in.
The winner will be announced August 2nd, 2007. All entries must be in by 12am Eastern, Aug 2nd. If you have commented already, please check that your comment is still there and was not lost in the change. If it is missing, please leave another comment to enter. (Please do not leave duplicate entries.)