This post may contain affiliate links. Read my disclosure policy here.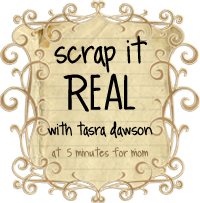 Redefining Scrapbooking for Every Woman
Simple Scrapbooks Get Results
Quick question for you: How many scrapbook layouts have you created this month?
Two? Ten? None? As it stands, the number one answer I get when I ask this question is "Who has time?" Sad, but true. So many women are bombarded with the realities of running a business, household, and life that we struggle to find time to slow down long enough to pull out our fabulous supplies and get some scrappin' done. Even when we do get motivated enough to pull out our supplies, sometimes scrapper's block, comparison, and feeling overwhelmed prevent us from making much, if any, progress.
For this week, I'd like to invite you to take a look at one simple scrapbook solution that I found. It's just one solution, there are many other options, but find one that works for you and fits your style…and get those pages done! Always remember that it's not the stickers, the die cuts, the paint, the chalk or the paper that our families will cherish in years to come…it's the time, energy, and personal attention that we gave to capturing and preserving precious lives of loved ones. Keep your focus and find your simple strategy.
My solution for the backlog of photos that were taken before I began scrapbooking is to use a "cheater" album like the Creative Memories PicFolio. (I'm not a CM consultant nor do I sell their products, this is simply the album I found to work for me. There are others on the market for you to consider as well.) This album may look like a traditional photo album at first glance, but here's what I like about it:
1. Gorgeous matte-leather black cover that is smooth to the touch and carries a lifetime guarantee.
2. Neutral interior that works with any project.
3. Flexibility to add photos, journaling, titles and accents in different size sleeves.
4. Color and patterned paper in a variety of families that coordinate with the album.
5. Completed albums in less time and for less money.
The end results are pages that highlight your photos, have splashes of color and plenty of room for journaling, titles and embellishments. You can add as much detail as you want so the options are really unlimited.
When I first brought my blank album to the local scrapbook store for crop night, I was met with mild enthusiasm. Secretly, (I was told later) the scrappers thought it was just another photo album and not a scrapbook at all. Oh the horror of it! They were a little more interested by the end of the night when they saw that I took 2 years worth of photos from when my daughter was a toddler and had them in the album along with a little color and patterned paper. I didn't have to crop or cut my photos because they were all 4 x 6 or smaller and fit in the album perfectly.
Two weeks later, when I returned for crop night to the same store with the same scrappers, I spent time adding titles, journaling boxes, and embellishments. By the end of the night, my completed album had converted the hesitant ones into believers. No one likes feeling guilty about not preserving and treasuring our photos, but finding the time to do a full-fledged album with little ones at home or a full-time job (or both) can feel overwhelming and unrealistic. That's why I gave myself (and you) permission to use a "cheater" album. Your cheating may be like mine or it may be preserving your photos in digital photo books or traditional albums. We'll talk more about those options later. Please remember we're not talking about designer pages to be published in a magazine. We're talking about completed pages and albums that our families (and ourselves) can sit down and enjoy!
The key to remember is that there definitely is a place for simple scrapbooks in our lives and on our shelves. We're not in competition, nor are we going to count how many albums you have complete at the end of your days. Scrapbooking, memory making, and preserving a legacy are for you and future generations. Allow it to be as unique as your personality and don't get stuck in a rut.
For me, simple scrapbooks work with my older photographs that I just want to get in albums. I'll save the more artistic pages for current photos and my son's baby album. It's a practical solution to a real problem: photo backlog.
If you'd like to start a simple scrapbook, here's what you need:
"Cheater" Album (CM PicFolio, Scrapworks Bay Box)
Patterned Paper (acid free): use a matching color palette for your entire album to make life easier. You can find paper packs at any local craft and hobby store or online at Scrapbook.com.
Paper Trimmer or Scissors
Adhesive (scrapbook safe): find at your local craft store. I use UHU adhesives because I love their quality. Glue rollers or tape runners are ideal.
Photos: choose the best photos to include in your albums. Leave the rest in storage. It's about remembering the moment, not every out of focus or dark shot you took. If you need to get them printed, do it now. Upload them to a site like Kodak Gallery or take a CD into your local Long's, Costco, or Walmart.
Embellishments: once you get your photos in with patterned paper, then take your album and see where you can add titles, journaling, and embellishments. Whether it's a beach ball or some palm trees, keep it simple. Add just enough and then move on to the next page or album.
It's that easy. You can find a solution that fits you and have a complete album two weeks from now. No more guilt, no more talking about doing something, take some action. When you do, leave a note in the comments so we can all celebrate with you!