This post may contain affiliate links. Read my disclosure policy here.
Be honest with yourself. When was the last time you took 5 minutes to just have some fun?
As a mom, you're always busy making sure everyone is fed, safe, and having fun. Often this leaves you with little time to just relax, or have some fun with your own friends. We've been there; we know!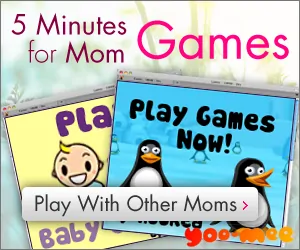 Social sites like Facebook and Twitter, plus our blogs, help to keep us connected. We share stories and pictures, chat and comment. And now, we play games!
Thanks to the fabulous YooMee games from Hooked Media Group we now have a page just for games! You can play by yourself, or with friends. You can even enter tournaments with other players in the network. You can connect via Facebook and share your high scores with your friends and invite them to play with you, or you can just play and have fun without connecting!
The games are mom-focused… Burp The Baby, Baby Blocks, Makeup Mayhem, and Bad Hair Day, just to name a few. You'll also find classic word games, Battleship, and block stacking games!
It's free to play and as you go along you earn little tokens which can be redeemed for fun prizes and gifts. But, the very best part is being able to take a few minutes to play a game with a friend!
Anyone up for a challenge? I'm developing some mad skills at Baby Blocks! C'mon over and we'll have some fun!