This post may contain affiliate links. Read my disclosure policy here.
Tonight, we dyed and decorated Easter eggs. Tomorrow, I will dress my children in Easter clothes and take them to church.
In the afternoon, my children will hunt for eggs and devour chocolate by the handful. I will take pictures throughout it all.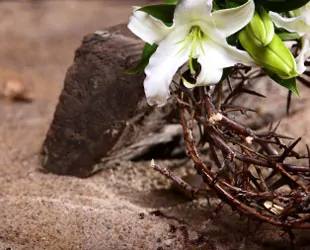 And while I drink in the joy and laughter, a part of me will wish I could take away the pretty clothes and chocolate bunnies and really take in the miracle of the grace of Christ and what it truly meant when he rose on Easter morning.
Here is one of my favorite songs, Grace Like Rain by Todd Agnew with clips from The Passion of the Christ. I know I put a video with Passion clips up on Good Friday as well, but nothing brings Christ's sacrifice home to me like seeing what he really endured for me.
I hope you have a wonderful Easter celebrating the miracle of Christ rising from the grave — and the grace he gives us all.