This post may contain affiliate links. Read my disclosure policy here.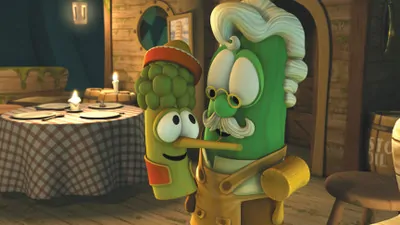 The past few weeks I have been struggling with the stubbornness of my children. My six-year-old has already decided that she knows best and my three-year-old is trying to assert his independence. We have had many discussions lately about respecting authority and obeying your parents. I am still trying to convince my daughter that I really do have her best interests in mind.
So the newest VeggieTales® release, Pistachio – The Little Boy That Woodn't, couldn't have arrived at a better time. While it didn't change their behavior, it did give us plenty to talk about. My daughter related with the main character, Pistachio, admitting to me that she would have made the same poor choices. We discussed what choices he should have made instead and how listening to his father would have prevented some scary consequences.
This is what I love the most about VeggieTales®. Kids truly enjoy the movies while learning valuable lessons at the same time.
Pistachio – The Little Boy That Woodn't is the all-new family adventure from Big Idea Inc., featuring a helpful lesson in listening to your parents. In this creative parody of the beloved story of Pinocchio, VeggieTales® follows its unique tradition of retelling classic adventures like Lord of the Beans, Wizard of Ha's and Minnesota Cuke! The DVD, priced at $14.99 SRP, includes the brand new Silly Song, "Where Have All The Staplers Gone," and lots of family friendly bonus features.

"The storyline of Pistachio created the perfect opportunity to teach children the importance of family and listening to their parents," said Greg Fritz, SVP of Sales and Marketing at Big Idea. "Everyone knows the story of Pinocchio and how he became a 'real boy', but Pistachio has a clever VeggieTales® twist that incorporates elements of truth from the classic tale, while emphasizing the father-son relationship and the strength of family. Parents will resonate with the desire of 'Gelato,' who only wants to do what's best for his child, while kids will see that there's ultimately great reward in listening to them."
Once you have sat down and watched Pistachio – The Little Boy That Woodn't with your family, be sure to check out the free Pistachio Family Fun Time sheet filled with games and activities to help teach your children the importance of family and listening to their parents.
Also if your family loves VeggieTales® as much as mine does, be sure to enter to win a spot on a cruise with Bob, Larry and Third Day.
We also have something fun just for YOU! We have a VeggieTales® prize pack with a retail value just over $500.00 to award to one lucky reader.
Our winner will receive:
VeggieTales 10-DVD Collectors Edition tin with mini-plush characters
26 CD collection
8 books
Bob & Larry plush toys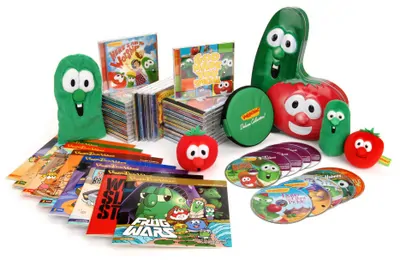 Entering is easy, simply leave a comment below. You can earn even more entries for the following:
Become a fan of VeggieTales on Facebook
Spread the word to your friends via your blog, twitter, etc.
**NEW** Start or Reply to any video conversation at Say It Face To Face. Then leave a comment with the link to the conversation on Say It Face To Face. Your video conversation or reply can be about ANY topic.
If you are already subscribed and are on our newsletter list, you qualify for those two additional entries. Go ahead and leave your additional comments below.
This giveaway is open to US and Canadian shipping addresses and is void where prohibited. For more information please see our site's Terms and Conditions of use. We will close this giveaway on Friday, April 9th and announce our winner the following day.
For review purposes, I did receive a dvd copy of Pistachio – The Little Boy That Woodn't. Big Idea Inc., is also providing the winner's prize pack. Receiving products for reviews does not affect my opinions stated in this post.