This post may contain affiliate links. Read my disclosure policy here.
Marcel Walker, professional photographer, walks you through getting off Auto on your point and shoot and your DSLRs too!
5 Minutes for Mom Photography — Basic Settings Tutorial Part 2
Apples and your Settings
Last week I wrote a post on learning to use your settings. A commenter named Rebecca made a very good observation that if I was going to compare shots, they both needed to be apples, not apples and oranges!
So this week, I went looking for apples. Now, these images are not exactly the same, but they are indeed both apples (maybe like Fuji vs. Gala).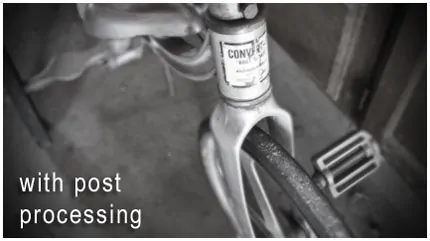 The image is entitled, "The Story of a Trike." This tricycle, thirty years old, has a incredibly beautiful story which I will save for another time.
It was shot with my basic manual settings with a Canon D1200 — a $150 point and shoot camera. It was processed in basic Photoshop with basic steps, but the editing could have been done in most other programs.
Above is my shot using Auto. May I say that in this case, Auto performed exceptionally poorly.
My point being, that if you want to capture the moment you care about, the more you know about using your settings, the more power you have to capture it the way you want to. Shooting in Auto is like talking a nice long walk down a rural road. Well what if someone asked you, "Hey how about walking though Vienna during the spring, on the beaches of North Shore of Hawaii?" Doesn't that sound more appealing?
So here we are inviting you to take some more appealing walks. You may have to do some traveling, but you'll get there. Our directions may not always be clear, so please let us know if we sound a little garbled (thank you Rebecca).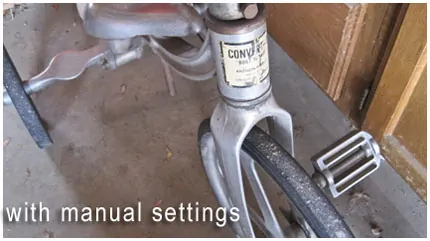 Here's my shot in manual from my point and shoot. And here's what I did to get it:
(I'm just going to cover a lot of information and some may feel like you're drowning, just float for a little. Or hearing a lot of foreign language. Just pretend you're in an immersion language program. "Hola! Buenos Dias!" — No, I do not now how to make upside down exclamation marks or put the accent on the "i", remember we're "pretending.")
First, I opened my handy dandy manual and found ALMOST no really useful information. Canon assumes, if you want to buy a camera for $150, you probably don't want to know too much. WRONG!
So I dove in on my own and here is what I did: (NOTE: We will cover each of these steps in greater detail in future posts — don't panic!)
Changed the White Balance
After pressing many butttons many times, I was able to change the white balance so that it was customized (so thus the picture looks a little cooler, more blue tones).
Changed my ISO
It was dark and inside a garage so I set my ISO, to 400. I set the picture mode to be macro (low depth of field so not everything was in focus).
Changed my Focus Point
I changed my focus point to dead center – I wanted to pin point one exact focus point on this shot.
Boosted my Exposure
There was an option to boost your exposure so I pressed that up a bit — that brightens up my shot.
Changed my Shutter Speed
There was a night time snap shot mode. What in perdition is that?!? It is a slower shutter speed.
And finally a touch of Photoshop
In post processing, I boosted the color and contrast a bit.
FINAL RECIPE:
So the actual settings for this shot f/2.8, ISO 400, and a shutter speed of 1/15 of sec. No tripod, I stood very very still.
Now if you don't know what all the above information was about — no worries. We are going to have several writers here at 5 Minutes for Mom Photography and we are going to cover it all! Just take it one photo at a time and remember knowing your settings gives you power!
And please put your questions in the comment section — I will answer you there too!
Next week, I'll begin going over the settings in greater detail. (The first time I sat in an advanced Photography workshop, at the Salt Lake Arts Center, 95% of the content went over my head. But the instructor, Rodger Newbold, was very encouraging and I so I continued to return and I still have so much to learn.)
oh, and how did I process this shot?
That is also another story — one that we will be covering as well here at 5 Minutes for Mom Photography. So just keep your eye on your reader. We are getting there!
Learning to edit well is like being offered to drive a Maserati. Your editing software is your own personal darkroom and can take you far and fast. Ansel Adams was a master in the darkroom.
I know some of you wrote and asked about editing in other programs. Most of the writers, I believe, will be doing tutorials in Photoshop, but the principles will apply in most editing programs.
I hope these tips help and I am looking forward to getting in to the details of settings next week!