This post may contain affiliate links. Read my disclosure policy here.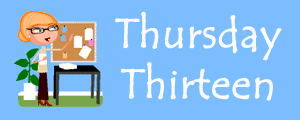 Banner by Chaotic Home
13 Random Childhood Memories
Fishing with my Dad, eating ketchup potato chips, oh Henry bars and orange soda, and leaning over to the water singing, "Fishies, fishies in the sea, come and take a bite from me…" (Or something like that – Susan and I would just make up weird songs to the fish to ease our boredom and the fact that we needed to go pee.) (ages 6 -14)
Holding hands across the gap between our twin beds when Susan and I were scared at night. (I don't remember what age – pretty young)
Driving to swimming lessons and praying that we would get lost. (I hated swimming lessons.) (all ages)
The thrill of getting to leave homework to go play softball on warm, spring evenings. (I loved softball.) (ages 11 and 12)
Taking our new puppy for "walks" – he got so tired and hot in the summer heat that he would lie down in the shade and refuse to move so we had to carry him. (age 11)
My parents changing their minds and deciding to take Susan and me with them to Hawaii the night before their trip. (age 11)
Buying roller skates in Hawaii for all four of us kids. (age 6)
Eating chocolate cake in Paris – the best I have ever eaten in my life. (age 13)
Susan and I snuggling with our Mom in her sleeping bag in the mornings at our cabin. (ages 6-11)
My older sister writing the letters in pencil on the piano keys and "teaching" us how to play the piano. (ages 2 – 6)
My Mom helping us with school projects. (Note: I got my perfectionism from her – these projects were more than a little over the top! And no – I do not allow this perfectionism to creep into my blog or else I would never get anything posted.)
Playing in the dirt hills by our cabin. We would spend hours climbing up and sliding down or playing with our hot wheel cars – yes we were a bit tomboyish. (age 6-10)
Anvil Island – a summer Bible camp that my parents volunteered at for a week each summer. It is where my husband I met as teenagers and we still go now with our son to volunteer. There are so many memories there – I will have to make that a list itself… (age 2- present)
Get the Thursday Thirteen code here!
The purpose of the meme is to get to know everyone who participates a little bit better every Thursday. Visiting fellow Thirteeners is encouraged! If you participate, leave the link to your Thirteen in others comments. It's easy, and fun! Be sure to update your Thirteen with links that are left for you, as well! I will link to everyone who participates and leaves a link to their 13 things. Trackbacks, pings, comment links accepted!
View More Thursday Thirteen Participants