This post may contain affiliate links. Read my disclosure policy here.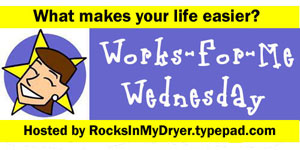 I am sick of throwing away melons…
I actually avoid buying melons, cause they often end up going uneaten in the back of my fridge. Finally a few weeks later, I dig out the shriveled, rotten thing and throw it in the trash.
So I am borrowing my Mom's tip for this week and I am going to adopt it as a new policy. (I have done it before, but I am going to make it a law now.)
Right after purchasing the melon, (cantaloupe, watermelon, etc,) I will wash and slice into bits size pieces. Then I will put them into a Tupperware in the fridge to be devoured as easy, bite size snacks.
Oh – and very important – make sure you wash those melons before you cut them! Now don't quote me on this, but I have heard rumor's that ecoli has spread to the edible part of the melon as the knife slices through. Now whether or not I can prove that, logic still tells me to wash that melon before I cut it up (same with oranges etc.)
There you have it – it works for her and it is going to work for me now too.
For more great "Works for me Wednesday" tips, visit
Rocks In My Dryer