This post may contain affiliate links. Read my disclosure policy here.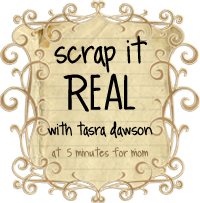 Redefining Scrapbooking for Every Woman
Two weeks ago we announced the launch of our new column, Scrap It Real, and I was so excited to read all the comments on the post. Based on that feedback, I want to jump right into this first edition of Scrap It Real with a new definition of scrapbooker.
If you preserve memories and moments through pictures and pages, you are a scrapbooker. You do not have to be a designer, creative artist, or published in magazines. If you are capturing your memories and those of your family through a medium like photography and journaling, and you are preserving those moments with traditional albums, photo albums, digital photo books, slideshows, or videos, you are a scrapbooker. Perhaps for the sake of argument, memory maker or historian is a more accurate term.
Regardless of what label you put on it, there are a significant percentage of women and even men creating, preserving, and enhancing their memories by scrapbooking…and not giving themselves credit for what they're already doing. If that sounds like you, will you just take a moment right now to breathe a sigh of relief? You are doing just fine. Of course, we can all improve, but moving to the next level is much easier if you accept and appreciate where you are.
Now that we're on the same page regarding who is a scrapbooker, there are some recurring themes I'd like to mention so that you can begin to reframe your thinking about each of these topics. The fact that they are recurring means that you are not alone and together we will find the answers and solutions to your issues with making memories that last.
#1: How Do I Get Started
The issues in this category range from creative blocks to practical tools and organization. Listen to these comments from women just like you…
"I have 4 sons and have never scrapped a page…the oldest is 26…I'm waaaay behind. But I want to begin."
"I have yet to join the scrapbooking craze. But there is never a better time to start than the present since I have 4 kids in my house and am starting to take a ton of pictures with the digital camera."
These two issues are practical. They just want to know what to do to get started.
Read this very carefully…it's incredibly profound and will change your life…just start. I know, it's amazing isn't it? Seriously, the reason I began with redefining scrapbooking is that there is so much pressure to do it "right." The truth is that there is no right way to capture and preserve your memories. They are yours for the keeping and future generations are not going to criticize your lack of creativity or sparse use of embellishments. They will cherish and thank you for taking the time to record their history. Don't let perfection or comparison rob you of the joy of creating something lasting.
Getting the basic supplies to start is simple. You can read my checklist about what you need to get started on Lessons from the Scrapbook Page for specifics. Please resist the temptation to go overboard in your shopping. I know everything is pretty and perfect and looks like so much fun, but that's marketing. It's supposed to make you feel that way. The problem is that you end up like another 5 Minutes for Mom reader who said, "I have loads of scrapbooking materials but I don't really know what to do with them." Or this one, "I have been trying to get into scrapping for the last couple of years. I have so many supplies yet, I still don't know where to begin."
Keep it simple. Only purchase what you need. Try it, use it and once you see that you need more, go ahead and reward yourself with a little more. I must warn you that scrapbook shopping is like grocery shopping on an empty stomach. Everything always looks good. One trick that helps me is to take my pictures or project to the store with specific ideas in mind. This reduces impulse buying and buyer remorse.
#2: Getting Your Pictures Organized
Another obstacle to scrapbooking is getting everything together.
Whether it's thousands of photos in shoe boxes or on your digital camera and computer, it can feel daunting to think about even finding and printing them all, much less putting them all in scrapbooks. I've got just the thing for you…the first episode of Real Women Scrap TV showed how to get your photos together and sort them quickly so you can stop feeling guilty and start scrapbooking. Watch it now.
For those who want a little more help in getting their photos organized, you can sign up online for my free monthly newsletter and receive the e-book "Get It Together: How to Organize Your Photos" absolutely free.
Alright friends, it's time to dust off those supplies, pull out those boxes of photos, place an online order of your digital images and get ready to scrap. Next time on Scrap It Real, we're going to talk about two other issues that keep us from moving forward…time and ideas (or lack thereof).
The five winners from our contest for an autographed copy of Real Women Scrap are:

Gaby McKendry – Four Too Many

Tessa from Striving To Be Better

Michelle from Heart of the Prairie

Pam (not a blogger – comment #16)

Dianne from Bunny Trails
Until then…live creative,
Tasra Dawson from Lessons from the Scrapbook Page