This post may contain affiliate links. Read my disclosure policy here.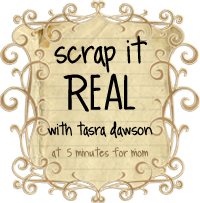 New Column!
When we first started 5 Minutes for Mom, I hoped to devote some of the site to scrapbooking. I love scrapbooking and definitely wanted to add that element to our site.
So I am just jumping with excitement to announce that Tasra Dawson, professional scrapper, speaker and author of Real Women Scrap: Create the Life and Layouts You've Always Wanted, is joining the 5 Minutes for Mom team as a columnist for Scrap It Real. (Scrap It Real will run twice a month on Fridays at 5 Minutes for Mom. To kick off the column, Tasra is giving away five autographed copies of her award-winning book. As well, If you click on the link to Real Women Scrap – you can buy her book for $5 off!)
Transform Your Life With Scrapbooking?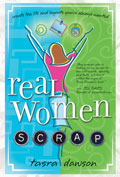 In her unique book, Real Women Scrap, Tasra seamlessly weaves the lessons she has learned from the scrapbook page into real life lessons for today's modern woman. I love this balance of personal growth with scrapbooking lessons. Tasra's insights make scrapbooking come alive in a whole new way – the most fun therapy I can imagine! Each chapter focuses on essential scrapbooking tips and techniques and then helps us to incorporate those lessons into our own daily lives.
Real Women Scrap's magic works for those of us who are looking to restore balance and focus in our lives. Because of the marriage of scrapbooking techniques with practical lessons and inspiration, this book is perfect for all busy women…from brand new scrappers to addicted veterans. Real Women Scrap is a quick read that will enlighten and motivate you – and give you a great reason to fit scrapbooking back into your schedule!
Tasra will officially start the Scrap It Real column in two weeks, but today we get to hear a bit more about Tasra's personal journey and the motivation behind her work with Real Women Scrap.

Janice: Tasra, in the beginning of Real Women Scrap, you reveal your own struggle with an overcommitted, stressed out life that ultimately led to a health crisis. Could you share with us a bit here about your personal journey and why you decided to write Real Women Scrap?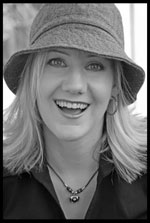 Tasra: Well, journey is definitely the right word…maybe even adventure. Five years ago my life looked like most women's lives…overloaded, overscheduled, and overwhelmed. I was running through my life busy, but not really doing the things that I was passionate about. Instead I was making myself sick by not taking care of my basic needs—eating right, exercising, getting enough sleep. You know what I mean. I'm not unique in this.
So many women just get bowled over by pregnancy, motherhood, and life that it starts to erode everything that they know and love about themselves…one day they look up and wonder who they are and how they got the life they're living. That was me, but not anymore. By applying the principles I talk about in my book, things like planning, focus, and perspective, I was able to quit a stressful job, write professionally, and begin speaking and coaching women across the nation. I'm now living a life that I never dreamed possible. This past year I've been on TV four times…this shy, introverted young girl who once ran out of a class crying rather than get up and speak. It's been an amazing transformation in my life. And it is possible for all of us to live our dreams if we will take the time to slow down, listen and reconnect with ourselves.
Janice: Personal growth can be even more daunting than an empty scrapbook page! And as moms, everyone is pulling us in every direction. Sometimes it feels like there is no way to heal ourselves. How can we start to restore order and balance into our lives when we barely have time to shower?
Tasra: I know all about not showering because I currently have a busy toddler at home, and I was a single mom for seven years. But the truth is that we will never find the time to do what we want and need, we must make time. Real Women Scrap not only provides practical ideas for how to find yourself again and take back your life, but also gives women the inspiration and encouragement to want to do it. Without that motivation, all the practical knowledge isn't going to help. It's truly written from the standpoint of someone who has been there and is right there in the trenches still. I'm a real woman, wife, and mom who has found some answers through her own struggles and journey and was so compelled by my own life change that I had to share it with others to offer hope and inspiration for their future as well.
Janice: I love that you have been in that place before – and found a way out! And the stories you share in your book really help motivate and inspire us moms to also establish some boundaries in our lives. What is your favorite lesson that scrapping has taught you? How do you keep the lessons you learned fresh and not slip back into your old patterns of living?
Tasra: Two tough questions. My favorite lesson that I've learned from scrapbooking is to find your focus. That's why I always say "Keep it simple and find your focus" at the end of each Real Women Scrap TV episode. Finding my focus has always been a struggle. Growing up I was a jack of all trades, but master of none. I envied the girls who focused on one particular skill, like music or dance, and excelled at it. I flitted back and forth from one thing to another because I had so many interests but never really refined my skills the way I would have liked. Moving forward in my personal life and my career, I constantly remind myself to "find my focus" so that I don't dilute my time and energy with too many things. One way I do that is by remembering that everything does not have to be done today or even this year! Sometimes as moms it feels like we'll be consumed with our children forever, but we won't. Other times we wonder if we'll ever reach our goals, and we will. But, everything has a time and if we can identify what our focus should be at any given moment we will be much more present and successful in everything that we do. And we'll enjoy it more to boot!
As for not slipping back, I already admitted that I'm as real as they come, so I'll just be honest and admit that sometimes I do slip back. I start to work too much, stay up too late, stop exercising, and on and on. The key is that I always get back up, dust myself off and start again. The reality is that I know the lessons and practice them the best I can given the circumstances. When I need a reminder, I pick up my book and read. Yes, in fact, I read my own book to be reminded and encouraged to take back my time, do what I love, keep it simple, and stay connected to who I am. I've had other readers who told me that they too use my book as a workbook. One woman even had the cover laminated and got it spiral bound so she could take notes and really use it in a practical way that worked for her!
Janice: Tasra – could you let our readers know a bit about what they can look forward to with your new column Scrap It Real?
Tasra: With Scrap It Real, I'm going to keep it simple—simple projects and simple lessons. That doesn't mean plain or boring, just not overwhelming or time-consuming. I'll be creating and introducing scrapbook and other creative projects that anyone can create (yes, anyone). Even if you aren't a scrapbooker or don't consider yourself creative, I hope to spark your interest and creativity with some super fun projects to try at home. Along with those projects, I'll also be sharing inspiration, encouragement, and a healthy dose of seat-kicking (as needed) to help you along the road to creating the life and layouts you've always wanted!
Janice: Tasra thank you for chatting with us today – and for joining the team at 5 Minutes for Mom. We are so thrilled to have you!
Tasra: Thanks to you for inviting me to be part of your team. 5 Minutes for Mom is such a valuable and encouraging resource for women that I'm excited and honored to be part of this amazing community of powerful, beautiful, and fabulous women!

Remember to join Tasra in two weeks for the beginning of Scrap It Real. To enter to win one of the five copies of Real Women Scrap, just leave a comment on this post by next Friday, June 22. In your comment, let us know your current level of scrapbooking experience, what you most want to know about integrating scrapbooking with life, or any other question or thought you have for Tasra. And if you have never scrapped in your life – no worries – Real Women Scrap is a great place to start! (Canadians are welcome to enter too!)
As well, you can find Tasra everyday at her fantastic blog, Lessons from the Scrapbook Page.
Thanks also to Shabby Miss Jenn Designs at www.shabbymissjenndesigns.com for the digital image in our Scrap It Real button!