This post may contain affiliate links. Read my disclosure policy here.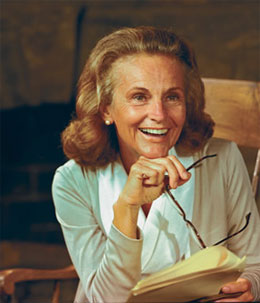 At 5:05pm Thursday, at her home in Little Piney Cove in Montreat, N.C., Ruth Bell Graham passed away.
She was surrounded by her husband Billy Graham and all five of their children.
After a lifetime of loving and serving the Lord, she is now with Him in glory. But I can only imagine how many tears are falling — not only by her beloved family and friends, but also by us, the many who never knew her but watched and admired her.
Growing up, Billy and Ruth Graham were our heroes. Our parents held them in highest regard and so did we. How could we not? When others disappointed and shamed the Lord, Ruth and Billy Graham stayed the course and honored Christ with their lives and their message.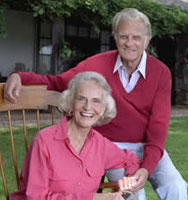 Personally, Ruth Graham is my hero – I am in awe of her and her dedication to the Lord, to her husband and to her children. To me, she is one of the purest examples of what the Holy Spirit can do with a life given to Christ. She was human and flawed I am sure but, from all I have read about her and by her, she seems to have truly allowed the Holy Spirit to govern her day in and day out. And through that power of God, she quietly lived out an extraordinary life for Christ.
Anne Graham Lotz, Ruth and Billy's second daughter, revealed her mother's deep relationship with the Lord:
"I would go down to my mother's room early in the morning. Her light would be on, and I would find her at her big, flat-top desk. She would be reading and studying her Bible, with about 14 different translations spread out around her.

"When I would go down to her room late at night, I would see the light on underneath the door and I'd go in, and she would be on her knees in prayer.

"As I look back on my childhood, I cannot remember any impression whatsoever that my mother was ever lonely. She may have been lonely, but I never saw it.

"I believe that our heavenly Father, our Savior, saved my mother from loneliness because of her daily walk with the Lord Jesus, He was the love of her life. I saw that in her life. It was her love for the Lord Jesus, with whom she walks every day, that made me want to love Him and walk with Him like that."
It seems strange after a lifetime of having the Grahams teaching and ministering to us that Ruth is now gone. But I hope the world will remember her. And for all of us mothers, if you are looking for a hero, pick up some books by Ruth Bell Graham (and especially her poetry). She will inspire you through her sincerity and her dedication to the Lord.
And when I die
I hope my soul ascends
slowly, so that I
may watch the earth receding
out of sight,
its vastness growing smaller
as I rise,
savoring its recession
with delight.
Anticipating joy
is itself a joy
And joy unspeakable
and full of glory
needs more
than "in a twinkling of an eye,"
more than "in a moment."

Lord, who am I to disagree?
It's only we
have much to leave behind,
so much … Before.
These moments
of transition
will, for me, be
time
to adore.

by Ruth Bell Graham, from Collected Poems, Page 162