This post may contain affiliate links. Read my disclosure policy here.
When I first met Quatro Mama and her crew of quadruplet cuties at BlogHer 09, I just couldn't get over how under control their family is. Quatro Mama and her phenomenal husband make taking four toddlers to a blogging conference seem like an everyday stop at the park.
These kids are going places. In every sense.
Their mom is a top blogger and brings her crew with her all over. To give you an idea, in January, they hit Capitol Hill, in February, they blessed Blissdom and then drove 15 hours to party with us at the Disney Social Media Moms Celebration.
They're such professional travellers, this is how they looked after 11 hours of driving!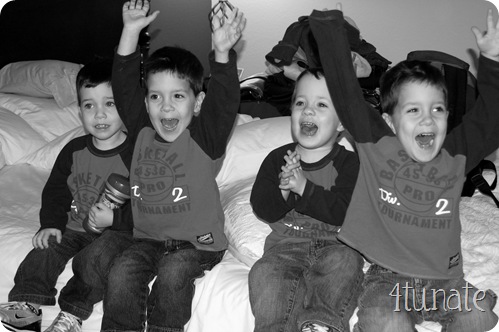 (I love browsing through Quatra Mamas photos… click on the Photography label on her blog and I bet you'll be there a while.)
When I saw them at Disney, the quads were as sweet as ever and their parents more relaxed than any parent of 4 preschoolers ought to be.
I grabbed my video camera and brought home a couple minutes with the boys.

In case you missed our introduction to the quadruplets, here's our video interview with them at BlogHer 09.

Aren't they just the sweetest family? I adore them.
Would You Be Scared Of Having Multiples?
So tell us, does the thought of having multiples of your own terrify you or do you think you'd be excited by the challenge?
Personally, I was always scared I'd have multiples. I struggled with infertility for 3.5 years and hadn't yet taken those next steps with fertility treatment because even the thought of twins had me shaking. (I ended up getting pregnant the month before I was going to start treatment and now I have a 4 year old and a 2 year old.)
What about you? Do you have multiples? Have friends with multiples? Dream of having more than one in your womb? Or pray to God, you only ever birth one at a time.
I love being a twin, but I don't think I'm cut out to have twins of my own… much less quads!
But I love adoring other moms' multiples. Join Quatro Mama and Her Crew at their blog and on Twitter.