This post may contain affiliate links. Read my disclosure policy here.
Today I had to get over my fear of PENCILS!
My Insanity
Julia is almost five years old and until today I had not yet purchased a pencil for her. I hung on to the crayons and markers and put off purchasing pencils.
"Why?", you ask. "Why would I fear buying my daughter pencils?"
Well, when Janice and I were about 8 years old, she was sitting on the couch doing her homework. I was running along the top of the couch and I fell on top of her, stabbing her leg with her pencil. The lead tip broke off in her leg, and to this day is STILL there! (You'd think Janice would have the fear of pencils, not me, but we twins are strange creatures.)
Funny thing is I don't even remember my mother's response. But I know that if Julia or Sophia were stabbed with a pencil and forever had a chunk of lead in them, I'd freak.
Okay, so I just did a Google search and apparently lead pencils aren't even 'lead', but just graphite which isn't harmful.
But still… those ultra sharp pencils just seem like trouble.
Julia's First School Supplies
Anyway, my crazy fears can't keep my daughter from learning to write, so today — this first day of spring break — we went to the store to buy Julia her first school supplies.
Pencils, erasers, a sharpener even — my, aren't I brave, I held back my fears of her sharpening off her fingers.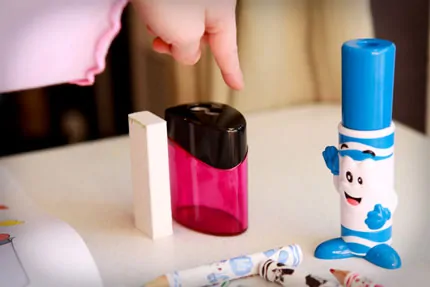 We also bought a few workbooks to kick off her new 'homework' days.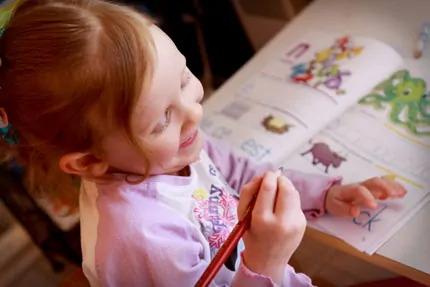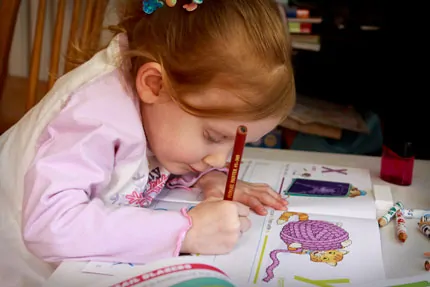 Or course, we had to buy duplicates of each — with a little sister in tow, what else could we do?
Homework Party???
They were so excited they sang about their 'homework party' and kept listing out that Julia would do her homework, Sophia would do her homework, Mommy would do her homework, Daddy would do his homework (even if it was at work), and Grandma would do her homework.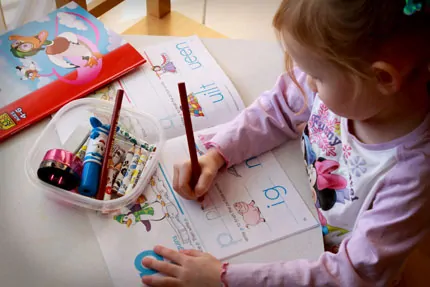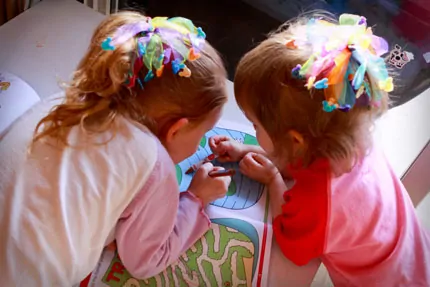 I got them settled at their table and began my own work.
It started off great… but soon pencil sharpenings were all over the floor and homework lost its appeal. I wish I could say I got an hour of work done undisturbed, but here's to dreaming we'll have a nice long 'homework party' tomorrow.