This post may contain affiliate links. Read my disclosure policy here.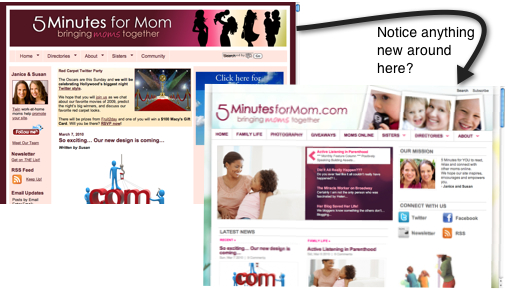 While you were watching Sandra Bullock win gracefully and hail the work we mothers do, our design team was busy implementing our new layout.
We hope you love our new look as much as we do.
We're not yet finished… as you'll likely notice. Our designer and developers are still busy adding, fixing and polishing, but we BEGGED – literally – for them to give us what they had so far.
Yes, we begged and pleaded with the fervour of a toddler for them to install our new layout tonight and then continue the rest bit by bit.
We'd love to hear your feedback and please definitely let us know when you find things that are missing and/or broken. That said… at THIS moment, we know TONS is missing, so don't worry… we're still working on it.
Please help us thank our fabulous designer and developer, Jedd and Mark from Industry Of.
We met our Jedd and Mark through a recommendation from Rusty of The Blog Frog and we are absolutely thrilled with their talents.
And we'd like to introduce our new technical assistant Erica Mueller. Many of you already know Erica from her site EricaSays and from her guest posts here at 5 Minutes for Mom.
While I was chatting with Erica at the Mom 2.0 Summit, I realized that she would be the perfect person to help me with all my technical tasks that are so important, but that I do not have time for… and often don't have the skills for.
Erica jumped right in and worked with the guys to ensure the new design went in without a hitch.
I can't believe I didn't do a single thing or stress for a second during this implementation. I was literally putting my girls to sleep while Erica IM'd with Jedd and Mark and our new design magically appeared.
It was fabulous. I sent an IM saying I was putting my girls to sleep and when I returned the site was running smoothly and looking even better.