This post may contain affiliate links. Read my disclosure policy here.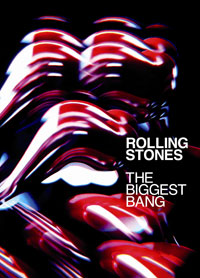 The Rolling Stones have teamed up with Best Buy to release the new Rolling Stones DVD box set, The Biggest Bang. This exclusive 4-DVD set offers two full-length concerts, two documentaries, new music and rare tracks, as well as a behind-the-scenes look from the Stones' recent tour, A Bigger Bang.
And this Father's Day – 5 Minutes for Mom is giving one of your Dads a copy!
The Biggest Bang offers never-before-released duets with artists like Dave Matthews, Bonnie Raitt and Eddie Vedder and other rare, never-released tracks including "Get Up, Stand Up" and "Mr. Pitiful," from a 2005 performance in Toronto.
With more than 55 songs and footage from around the world, including concerts in Argentina, Japan and China, and full length concerts from the Rolling Stones historic show on Rio de Janeiro's famed Copacabana Beach which was attended by two million concert goers, and a concert in Austin, Texas, your Dad will have a complete Rolling Stones experience.
"The Biggest Bang DVD set lets fans join us as we traveled around the world," said the Rolling Stones. "They will go behind the scenes at the Super Bowl, see us play an intimate club show in Toronto and for 2 million people on the beach in Rio, as well as gigs in Shanghai, Buenos Aires and Japan. It features classics but also rarities — songs we've never released before on DVD."
The Biggest Bang retails at $29.99 and will be available in U.S. Best Buy stores June 12 (customers can pre-order it at BestBuy.com.) International release will be mid-summer.
If you want a chance to win this cool gift for one of the Dads in your life, just leave a comment and please link to this contest from your blog. This contest IS open to Canadians as well! (Non-bloggers are always welcome!)
We will announce the winners for this contest (and for Part 2 of the Father's Day giveaway) on Saturday morning, June 16th – so in case you don't win – you still have time to get to Best Buy to pick up a set for Dad. 🙂