This post may contain affiliate links. Read my disclosure policy here.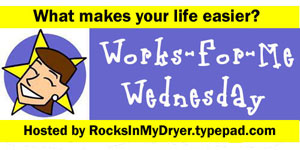 Do you find the sound on many children's toys to be
too loud?
I do.
Often the musical tune or beeping noise hurts even my ears and I've stood directly in front of loud speakers at many a rock concert.
I just don't understand why the toy manufacturers seem to want to damage our children's hearing even before they're old enough to do it themselves.
But, until they figure out that our kids do not need to learn their ABC's at AC/DC volumes, what works for me is tape – Scotch tape or Duct tape.
I simply put a few layers of scotch or duct tape over the speaker of the toy. Often the tape over the speaker trick works beautifully – especially if the speaker is tucked away out of sight.
You do have to be careful if the tape is somewhere a baby could get it… that's not a good idea… you definitely don't want baby peeling off the tape and putting it in her mouth. So use the tape trick only when baby can't get to the tape, or if you're supervising her playing with the toy.
This little trick has saved a few of our toys from meeting the garbage man.
Have you ever used this tape trick before?
For more great "Works for me Wednesday" tips, visit
Rocks In My Dryer