This post may contain affiliate links. Read my disclosure policy here.
The Ultimate Blog Party has started
You can find the main post and linky's here! The party will run April 9th – 16th. Don't forget to leave a comment over at the main party post to be eligible to win prizes.
It is about friendship, growing your network, and having some good old fashioned blogging FUN!
If you are partying with us for the first time… The Ultimate Blog Party has become an exciting tradition in the "Momosphere". It is a bloggy carnival where participating bloggers publish a "party post" introducing themselves and then party hop through the linky lists meeting other bloggers.

The blogging life is about relationships — meaningful friendships that grow out of sharing who we are and getting to know one another. And like real life friendships, online friends need a place to meet and mingle.

So if you want to grow your network, meet new friends or promote your site, get ready for the Ultimate Blog Party 2010!!!
"I started blogging last year right before the UBP. It was amazing to participate because I met so many incredible women who welcomed me into the blogging community. The UBP was an incredible experience and I highly recommend it for both new and seasoned bloggers.

It is a wonderful way to make awesome connections and to get your brand "out there" – not to mention the amazing prizes!

Can't wait for the UBP '10!"

— Myra from My Blessed Life
"I was seriously considering throwing in the "bloggy towel" the morning of UBP '09… but after an incredible day of meeting new and inspiring bloggers I was totally recharged and revived! And here I am now a 1,000 readers later!

Thanks guys for throwing such a fun party! I'm really looking forward to UBP '10!"

— Sharon from Good,True and Beautiful

During the week of April 9th – 16th, the blogosphere will be partying carnival style — jumping through our MckLinky lists of participating bloggers.
Last year, the Ultimate Blog Party 2009 had over 2000 bloggers participating and our UBP related pages had over 55,000 page views, with the actual party post receiving over 25,000 page views.
We also held our first UBP "In Real Life" parties. Bloggers in Los Angeles, New York and Nashville had the treat of meeting up and mingling in person while being entertained by several talented artists, Chris Mann, Leslie Mills and Diane Birch.
Each event was also streamed live, so that we could all take part in the fun.
To get a feel for what's going on here, check out last year's party post.
We're still in the works planning this year's events so stay tuned for details on local meetups and live streamed parties.


Tweet It Girls, #ubp10
This year again we be using Facebook and Twitter to promote the UBP '10.
So make sure you don't forget to invite your Facebook friends and Twitter followers. Please use hashtag #ubp10.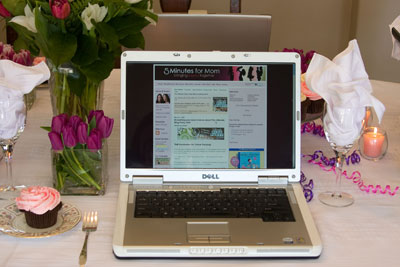 Of Course We'll Have PRIZES!
The Ultimate Blog Parties always have an enormous outpouring of prizes.
Stores, sites and blogs of all sizes can donate prizes and get in on this fantastic advertising opportunity.
That's right… promote yourself. Your blog rocks and everyone should know about it. Donating a prize scores you a spot on our high traffic prize page.
There will be so many prizes, we'll again bring in Pamela M. Kramer from Happy Panda to help us manage and award all the prizes. Thanks so very much Pamela!!!
The prize list will grow and grow at our Ultimate Blog Party 2010 Prize Page.
So how do you party with us?
(Simplified version. Details here.)
Both BLOGGERS and NON-BLOGGERS can party with us (and be eligible for the prizes) at the Ultimate Blog Party.
Between Now and April 8th, 2010
If you want to gain extra awareness to your site or blog, you may sign up to donate a prize. Find out more about Donating A Prize for the UBP 10.
Add a UBP 10 Button in your blog's sidebar and write a blog post inviting your readers to the party. (You don't want your friends to miss out!)
Prepare a fun post introducing yourself and your blog. This will become your Party Post that you will publish on April 9th and add its url to the MckLinky here at 5 Minutes for Mom.

Your party post can be whatever you want it to be. It may be short and sweet or elaborate with photos, videos or slideshows. You could include recipes for party foods, party decorating ideas… whatever says "party" to you!

But do NOT publish it yet… wait until April 8th or 9th.
During Party Week April 9 – 16, 2010
Read and comment on the main Ultimate Blog Party 2010 party post to be entered in the draw for PRIZES.

We will publish our party post on April 9th at 12:01 Eastern. (But please everyone try not to hit the server all in the same second… in previous years the massive traffic has brought down the server. If the site won't load, please watch for updates on Twitter at #ubp10.)

If you have a blog, publish your party post on your site, include a UBP '10 BUTTON, and tell us which prizes you want if you win.
Add your blog url AND/OR your facebook link AND/OR your twitter link to the appropriate MckLinky that will be published in our party post on April 9th.
Visit tons of blogs, facebook pages and follow new twitter friends from the MckLinkies. (To be eligible for prizes, we ask that you visit and comment on at least 20 blogs.)
If you have any questions, you contact us.

Thanks so much for being a part of 5 Minutes for Mom and we will see you soon!

Click here to get the codes for the UBP '10 buttons and banner.