This post may contain affiliate links. Read my disclosure policy here.
Yes, Heather Armstrong was at the Mom 2.0 Summit 2010 and I stole 5 minutes of her time to share with you!
Heather is one tall woman! And she's wearing enormous heels… I felt like a small child next to her.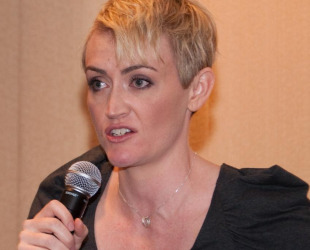 So tell me, what makes you MOST JEALOUS of Heather?
Is it her…
Runway model looks.
Wickedly hilarious sense of humor
Crazy busy but wildly successful blogging career, or
Her "tech-geek" husband Jon who handles the business behind her blog?
Thanks to my dear friend Rachel who recorded the interview for me on her flip. All my cameras were full and she saved the day with space left on her flip. (Last year at Mom 2.0 we had a fabulous camera guy to help Janice and I with our video interviews, but this year I went solo and we didn't have a cameraman… just a Flip. LOL.)
Talk soon,
Susan, co-founder of 5 Minutes for Mom.
Don't miss posts, subscribe to our our feed and please tweet with us — @5minutesformom. 🙂
Love to spoil your kids? Visit our pedal car store and our rocking horse store.