This post may contain affiliate links. Read my disclosure policy here.
I love going to blogging conferences!
Meeting blogging friends in real life energizes me. Learning from each other and bonding over late night chats charges me up and I go home renewed (albeit exhausted).
But… there's the flip side of jetting off for four nights…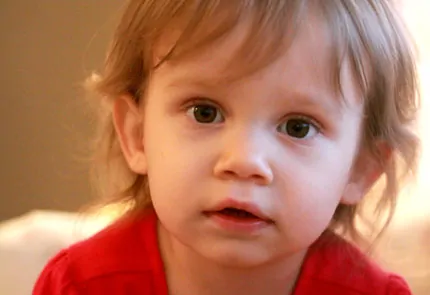 Yes, you got it.
If you're a mom like me, leaving behind those longing eyes, wiping away the tears and quieting the cries that beg you to not go (or plead over the phone for you to come home) makes going away almost unbearable.
I've been fortunate that my girls have survived my trips quite well, but it's still very hard. Tonight as I was on my way to the hotel in Houston for the Mom 2.0 Summit, my husband called me with a screaming Sophia wailing into the phone that she wants MOMMY!
My poor little 2 year old was inconsolable as my husband tried to put her to bed. She wanted Mommy and Daddy wouldn't do. Still too young to understand that I'm away on a trip, she screamed and cried until she likely was too tired and fell asleep.
My heart breaks thinking that I've caused my baby to be so sad.
But, what's a mom to do?
Last year at this time, Sophia was still nursing and I brought her and Julia (along with my mother to babysit) WITH ME to the Mom 2.0 Summit.
In fact, here's a cute video of them here at the Four Seasons last year.

The Four Seasons is Fabulously Family Friendly from 5 Minutes for Mom on Vimeo.
I've brought both girls to BlogHer 08, Mom 2.0 Summit 2009 and two StomperNet conferences. It was exhausting and expensive, but when Sophia was nursing, I had no other choice.
I try to limit my traveling as much as I can, but I do attend a few conferences each year. So as I type here in my hotel room, I'm trying to resolve my mommy guilt and know that my girls are well looked after by their Daddy.
What about you?
Have you left your children to go on a trip? Do you go to blogging conferences? Is it hard on you or your children while you're gone?
Jendi was wondering about these questions too. On our video conversation site, she asked How Long Have You Been Away From Your Kids At One Time?
So tell us… leave a comment here AND/OR leave a video reply for Jendi.
Written by Susan, co-founder of 5 Minutes for Mom
You get our feed right?
Btw, we also own two online stores — Pedal Cars and Retro Collectibles and a A Rocking Horse to Love.