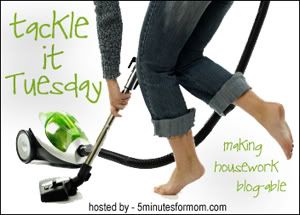 Forgive me, for again I have no photos to show for my tackling efforts this week.
My house is in desperate need of a month's worth of tackles, but I haven't any time.
I'm in mid-conference pit-stop mode.
I arrived home Saturday night from the Disney Social Media Moms Celebration to find my four year old Julia suddenly sick with the stomach flu. She had thrown up 30 minutes before I got home and continue to throw up throughout the night. (She's better now and so far, neither Sophia nor I have gotten sick.)
I spent Sunday snuggling both my girls in a desperate attempt to make up for my absence.
Laundry was piled high, but I couldn't get them to let go of me long enough to even sort out a load.
Today I tried to catch up with tweets at #DisneySMMoms, publish a post, create a DisneySMMoms Flickr group and read blog posts from our DisneySMMoms link-up post.
Tonight and tomorrow, I'll work through laundry and pack to leave on Wednesday for the Mom 2.0 Summit.
So tonight my house remains a mess and my guilt is piled as high as my laundry.
(But I admit I had a FABULOUS time at the Disney Social Media Moms Celebration and I'm looking forward to hanging out with more blogging friends at the Mom 2.0 Summit.)
Anyway…
So what have you been tackling?
Tell me what you're up to with all your other tackles… housework and otherwise… add your link to your tackle in the Mck Linky below!
Each week on Tuesday, we are posting before and after pictures of a project or trouble area that we tackled this week.

Find out more about Tackle It Tuesday here.
The project can be little or big – whatever you want.

Basically, Tackle It Tuesday is about giving ourselves incentive, deadlines and satisfaction in getting our household tasks done.

(It doesn't even have to be housework… just whatever is on your To Do list.)
If you tackled a project this week, just add a comment and add your link below.
Happy tackling ladies…
Written by 5 Minutes for Mom co-founder and Mommy Blogger Susan.
Do you have our feed in your reader?
By the way, do you know that Janice and I also run a couple online stores where you can find a pedal car or some adorable play furniture for your children?