This post may contain affiliate links. Read my disclosure policy here.
Welcome to another week of 5 Minutes for Books. Today's reviews are by Jennifer. The winner for last week's Chocolatherapy book drawing is Kahri from Our Peculiar Life. Congratulations Kahri! And for those of you who didn't win, but are still craving chocolate, you can click through the link and order this great book for yourself.

This week we have several giveaways to go along with Jennifer's reviews of some great activity books/packs for kids. As well, Jennifer reviews a novel for you moms. (No giveaway for the novel review.)

Chronicle Books for Kids and the Potluck Club novel
With summer approaching, I know that many of us will be doing some family traveling. I always like to be able to pull out a new book or activity that might hold their interest for a little while to make the trip more bearable (for them and for me). Maybe if they are entertained, you can actually read a few pages for yourself. So whether you want to make some time for a beachy summer read for yourself, or keep the kids' brains active and challenged over the summer, I hope that you find something here that you like.
*************
I just recently read The Potluck Club Takes the Cake, the third in the series by Linda Evans Shepherd and Eva Marie Everson.
Each chapter is told from a different point of view, and I did get a bit confused if I didn't remember to take note of the name of the character who was narrating that particular chapter. I think the fact that I had not read the other two and was not quite as familiar with the characters contributed to this. Perhaps the first novel in the series would be a better place to start.
That said, it was a nice easy read covering the themes of friendship, romance, family strife, and reconciliation, and of course, food! The potluck club is a group of women who meets to eat and support one another with prayer, which they all needed at one point or another throughout the novel. It seems a little to me like Desperate Housewives, without the desperation.
The book does include some really great recipes and also gives guidelines for hosting a Christmas tea, which is a featured event in the book.
*************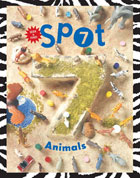 Chronicle Books has a great Seek and Find series called Spot 7.
One of the things that I like about Spot 7 Animals is that it can easily hold the interest of a young preschooler (with mom's help) on up to an older elementary student. For Kyle (who just turned three yesterday!), I let him find things at my direction, "Where's the horse?" or I can challenge him to "Count the balloons."
Amanda, who is eight and a half, can take advantage of the unique twist in the Spot 7 series. Each two page spread has the same colorful picture, but with seven differences (if you click through the link to the amazon listing, you can see a sample page). As the back cover says, "Two photos that look the same. . . but seven things in them have changed! Can you spot them all?" In the back of the book, there are even hints as to where to find the differences when they get stuck, so the child can take pride in being able to handle the whole activity themselves.
And if the purpose of giving them the book is to entertain themselves on a long car or plane trip (which I think is a perfect use of this type of book), the fact that they are able to do it alone is a definite plus. In the beginning of the book, there are even a few challenges for them which involve the entire book such as find 18 butterflies, and find 9 giraffes.
*************
Another new offering from Chronicle Books is their World Almanac for Kids Puzzler Decks.
My kids have copies of Reading! for ages 5 to 7 and Math! for ages 7 to 9 (again, if you click through the link to each of the individual products, you will be able to see sample cards).
The decks each contain 60 cards and are about 4 by 6 inches in size. The cards are sturdy and a great size. The reading deck focuses on matching, sorting, ordering and some colors. A four year old pre-reader could do many of these activities with an adult. The math set includes codes, currency, percentages and other number facts.
The other puzzler decks that are available are U.S. History and Geography for ages 9 – 11 and one for ages 11 – 13.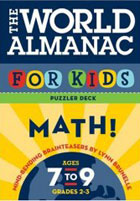 The great news is that Chronicle Books is giving away one of each of the four World Almanac for Kids Puzzler Decks mentioned here, and a copy of Spot 7 Animals. I want to make sure the books go to someone who has a child in one of the age ranges (or knows who they would give it to if they won,) so please leave a comment indicating which of these you would like, in order of preference, and as I draw the winners, I'll try to match them up to your first pick. These giveaways are open to Canadian and U.S. readers.
Reviewed by Jennifer Donovan from Snapshot.