This post may contain affiliate links. Read my disclosure policy here.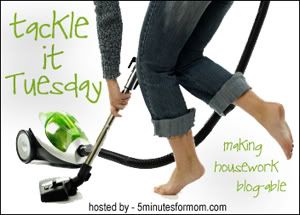 I can't believe I'm admitting this…
But my tackle had two phases…
Yes, as you might guess, my tackle tonight includes PACKING to go to the Disney Social Media Moms Celebration in Orlando.
But the embarrassing part is that before I could pack, I had to finish UNPACKING from my last trip to San Diego in OCTOBER!!!
Yes, I am that bad at unpacking my bags after a trip. You see, San Diego was summer weather and when I arrived home to Vancouver in October, I certainly did not need my summer clothes. And my suitcase sat half-full… waiting for me to require that suitcase again.
I do not like to pack. (And as is quite apparent, I also do not like to unpack.)
But I will try to not complain about packing, since it does mean I'm headed off for a fabulous trip to hang out with blogging friends — new and old — and have a blast at Disney World.
The one thing (besides packing) that does put a little damper on my enthusiasm is that I'm not bringing my 2 and 4 year old girls with me on the trip.
And I feel VERY GUILTY.
But it costs a bundle to fly everyone to Orlando from Vancouver, BC, Canada and we just can't afford it.
Janice is bringing her family. Her kids are 2 and 8 years old and her husband LOVES Disney World almost as much as her kids. So, they are driving down to Seattle and catching the plane from there and are staying a full week at Disney World.
So please don't tell my girls where I'm going… ugh… I feel even more guilty as I type this. (To ease my guilt, I'm reminding myself that they did get to go last year when we did a video shoot for Disney. You can watch them loving it in this fun video.)
Anyway…
So what have you been tackling?
Tell me what you're up to with all your other tackles… housework and otherwise… add your link to your tackle in the Mck Linky below!
Each week on Tuesday, we are posting before and after pictures of a project or trouble area that we tackled this week.

Find out more about Tackle It Tuesday here.
The project can be little or big – whatever you want.

Basically, Tackle It Tuesday is about giving ourselves incentive, deadlines and satisfaction in getting our household tasks done.

(It doesn't even have to be housework… just whatever is on your To Do list.)
If you tackled a project this week, just add a comment and add your link below.

Happy tackling ladies…
Written by 5 Minutes for Mom co-founder and Mommy Blogger Susan.
Do you have our feed in your reader?
By the way, do you know that Janice and Susan own two online toy stores where you can find a pedal plane or some adorable play furniture for your children?