This post may contain affiliate links. Read my disclosure policy here.
Switch up your morning meal routine with this nutrient-packed savory breakfast bowl featuring wholesome quinoa, sautéed veggies, soft-boiled eggs, sliced avocado, and mouthwatering Gordal olives.
Campaign financed by the European Union.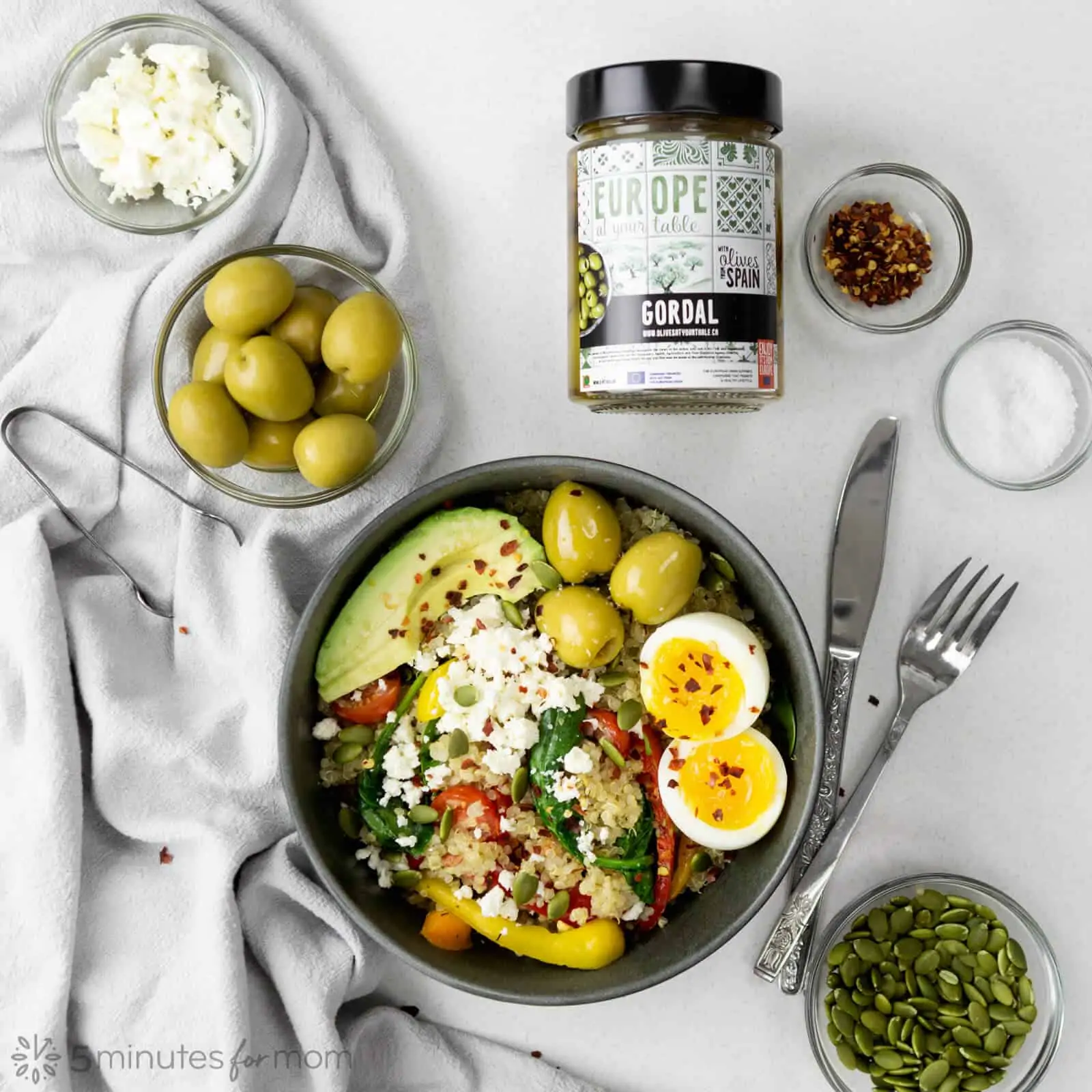 When it comes to breakfast, most of us default to our regular, go-to favorites. But sometimes we need to break out of our habits and try something new!
Have you ever swapped your usual cereal grain for quinoa?
While quinoa is not actually a cereal grain – it is the seed of a plant – it is higher in nutrients and protein than most grains and it can be a great, gluten-free alternative to wheat, oats, or rice.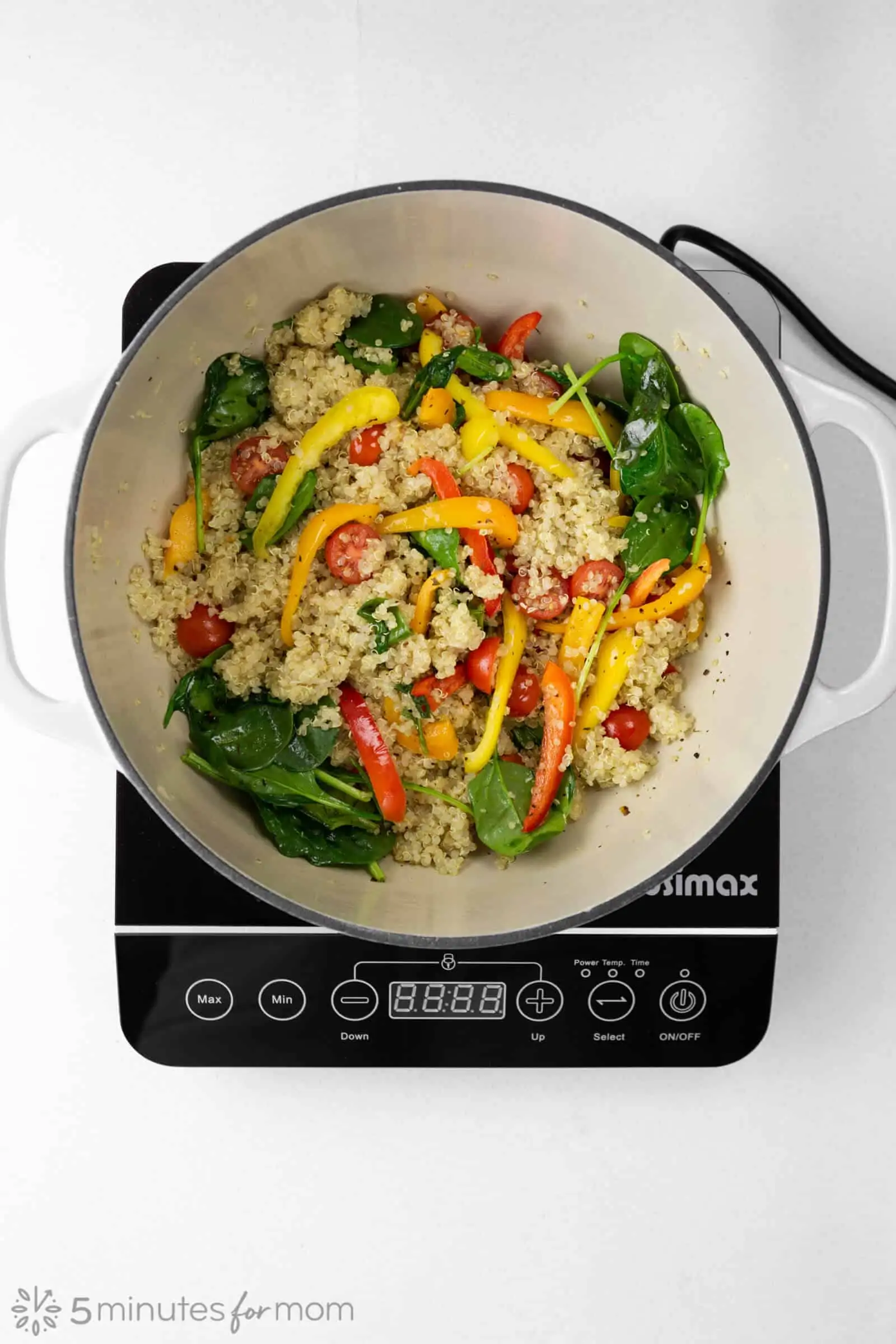 Quinoa is also a complete protein source and a good source of fiber making it a great option for your first meal of the day.
Have you ever added olives to your breakfast meal?
You may not have considered reaching for a jar of olives while preparing breakfast, but nutrient-rich European olives are a flavorful source of antioxidants, minerals, healthy fats, and fiber.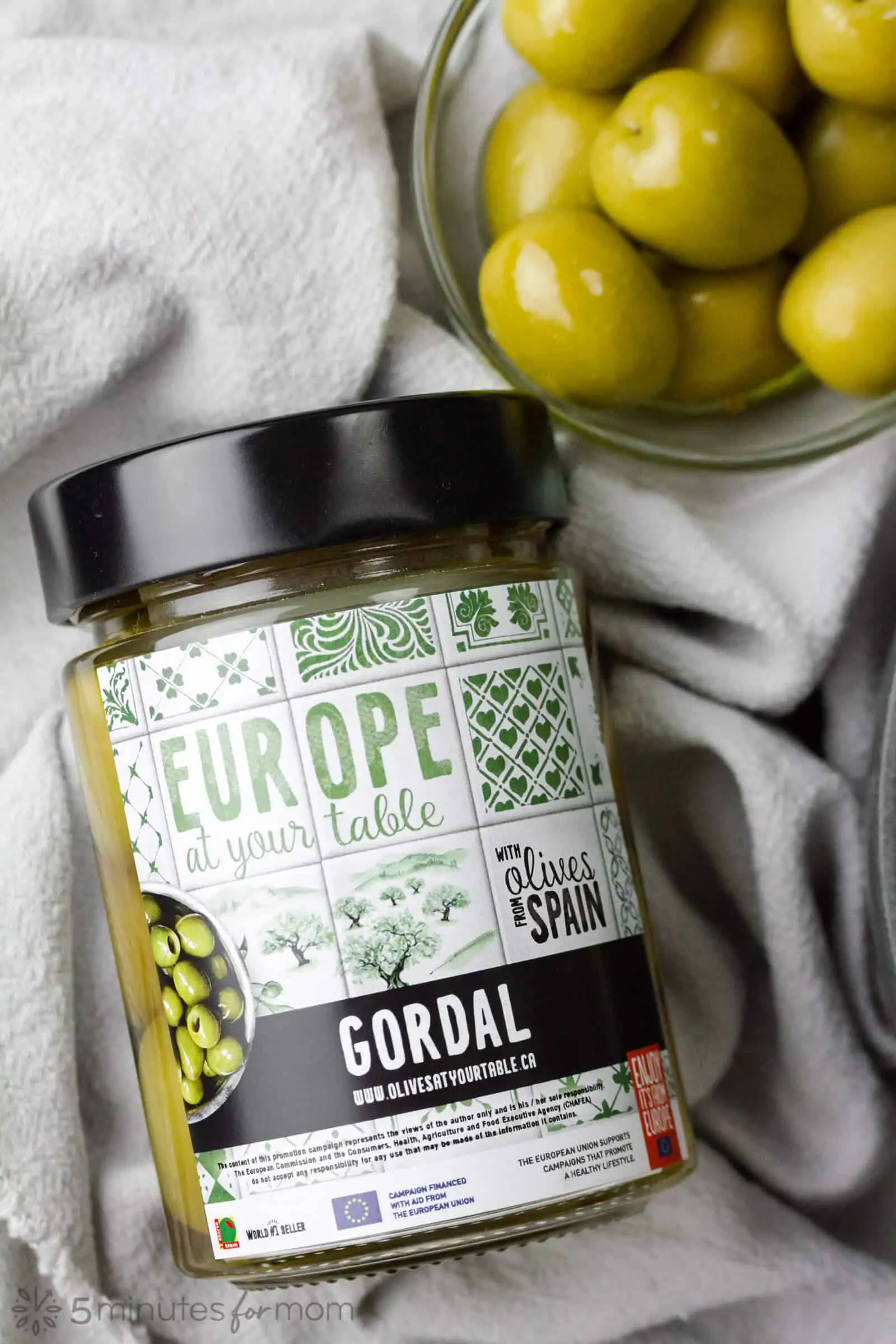 Gordal olives, also referred to as "queen olives," have a fleshy texture and delicate flavor, and are perfect for snacks, appetizers, or adding to dishes such as this quinoa breakfast bowl recipe.
"Mom, this is so good!"
When I first made this quinoa breakfast bowl with sautéed veggies, avocado, and Gordal olives, I loved it! But I knew my fourteen-year-old daughter who is literally the pickiest eater on the planet probably wouldn't give it a fair try.
But fortunately, my son is home visiting from university. So when I finished photographing the recipe for this post, I brought him the bowl and then went to clean up after the shoot.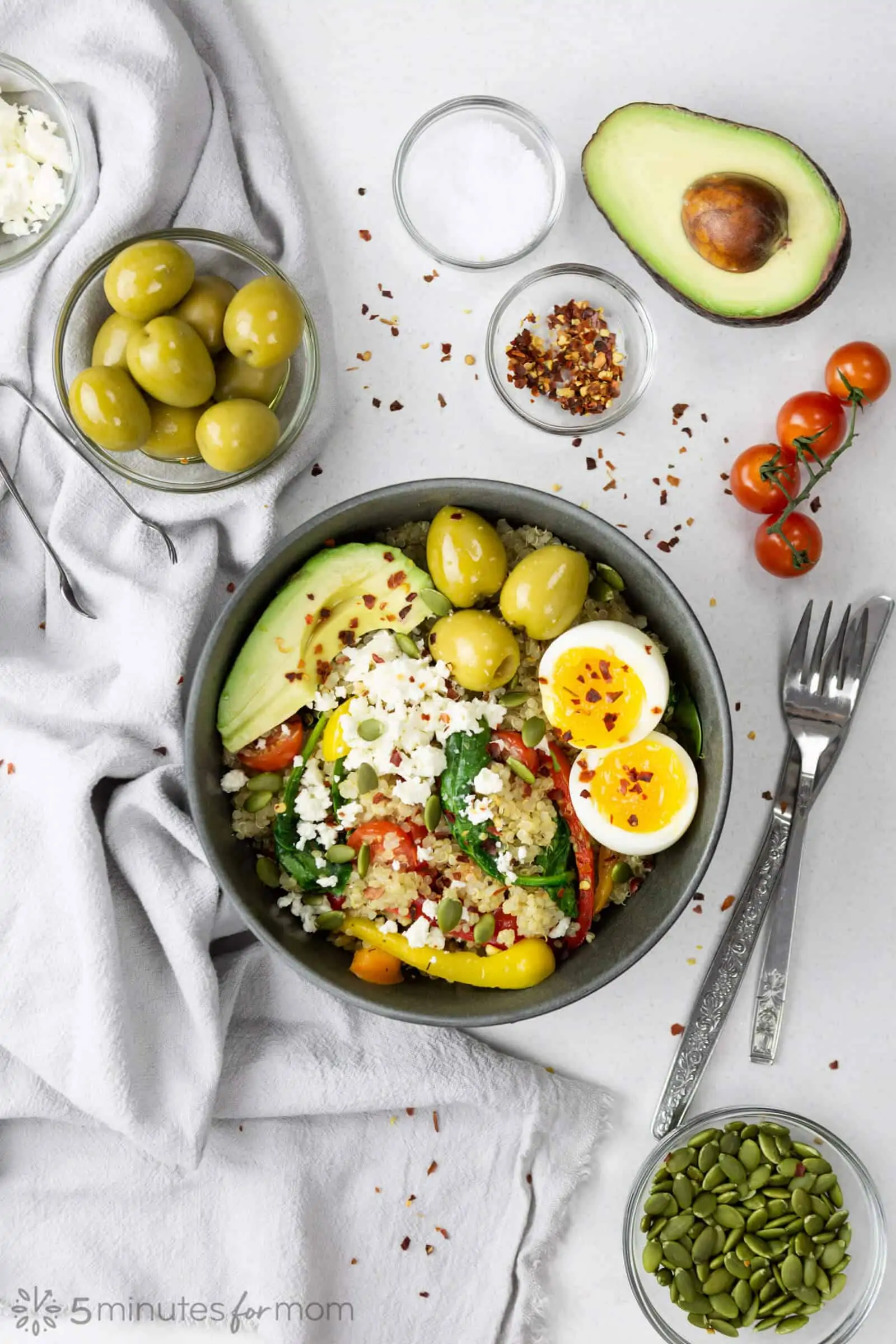 A few minutes later I got a text from him: "Mom, this food is so good!"
I was so excited to get his enthusiastic stamp of approval!
For Breakfast, Lunch, Dinner, or Midnight Snack
Of course, this savory breakfast bowl doesn't have to be just for breakfast — it is a great base recipe for meal prep, packed lunches or dinner.
You can swap out ingredients with whatever you have on hand and you can use your favorite cheese, veggies, etc.
For this recipe, I sautéed bell peppers, cherry tomatoes, and spinach and then stirred in freshly cooked quinoa. (You can cook your quinoa ahead of time to make meal prep faster.)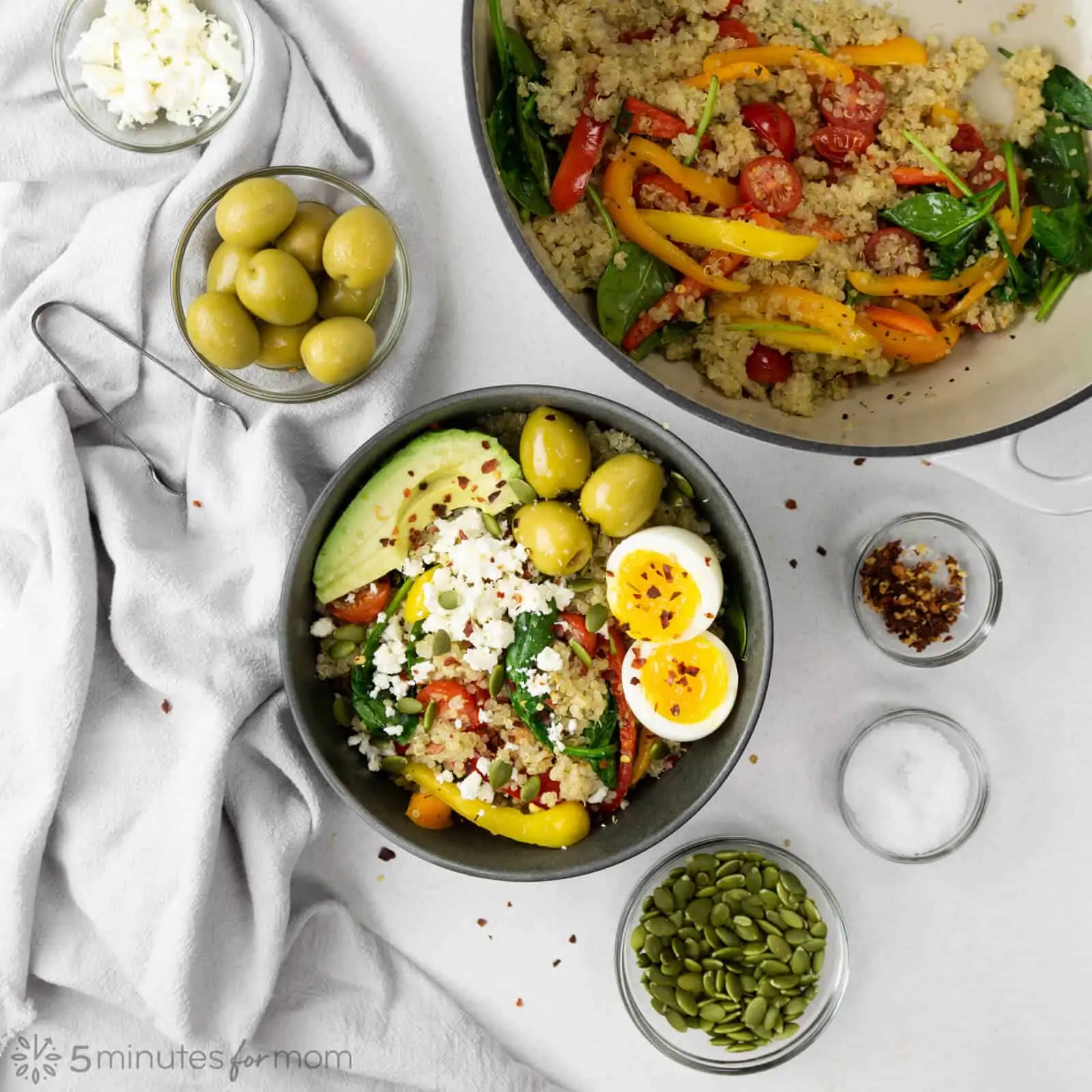 I added soft-boiled eggs, but you can definitely hard boil your eggs – or prepare eggs any way you wish. I also added sliced avocados and Gordal olives and then topped it all off with crumbly, salty cheese, pumpkin seeds, and red pepper flakes.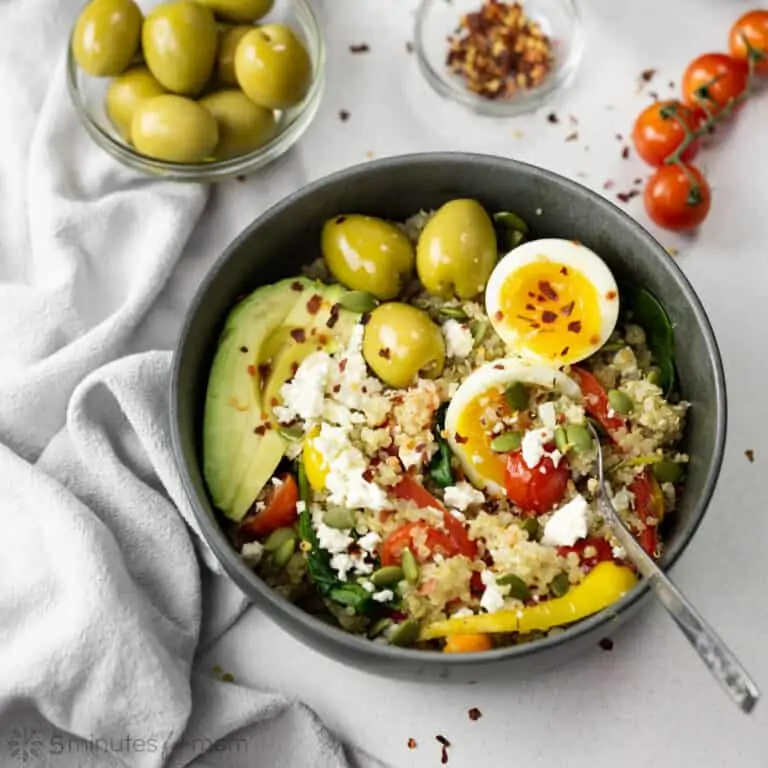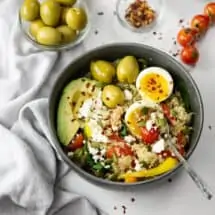 Quinoa Breakfast Bowl with Gordal Olives
Switch up your morning meal routine with this nutrient-packed savory breakfast bowl featuring wholesome quinoa, sautéed veggies, soft-boiled eggs, sliced avocado, and mouthwatering Gordal olives.
Print
Pin
Rate
Servings: 4
Calories: 524kcal
Ingredients
12 Gordal olives also known as "Queen" olives
1 cup uncooked quinoa or 3 cups cooked quinoa
2 cups water
3 bell peppers
10 ounces cherry tomatoes
5 ounces baby spinach
1 avocado thinly sliced
4 soft-boiled eggs sliced in half
1 cup crumbled brined white cheese
1/2 cup pumpkin seeds
seasoned salt
herb blend of choice
red pepper flakes optional
Instructions
Rinse and strain uncooked quinoa

In a medium/large sauce pan or Dutch oven, combine rinsed quinoa with water and bring to a boil

Cover, reduce heat, and simmer for 15 minutes

In a large skillet (or in the Dutch oven after the quinoa is cooked and set aside) sauté peppers for 2-3 minutes or until starting to soften

Add cherry tomotoes and continue to cook for additional 2 minutes

Add spinach and sauté for a final 2-3 minutes

Season with herb blend and seasoned salt according to taste

Combine sautéed vegetables and cooked quinoa and stir to mix

Divide quinoa and sautéed vegetables into four bowls.

Top each bowl with three Gordal olives, sliced avocado, soft-boiled egg, crumbled cheese and pumpkin seeds

Sprinkle with red pepper flakes if desired
Nutrition
Calories: 524kcal | Carbohydrates: 44g | Protein: 24g | Fat: 29g | Saturated Fat: 10g | Polyunsaturated Fat: 5g | Monounsaturated Fat: 12g | Trans Fat: 1g | Cholesterol: 220mg | Sodium: 719mg | Potassium: 1180mg | Fiber: 10g | Sugar: 8g | Vitamin A: 7010IU | Vitamin C: 145mg | Calcium: 298mg | Iron: 6mg
Pin it for Later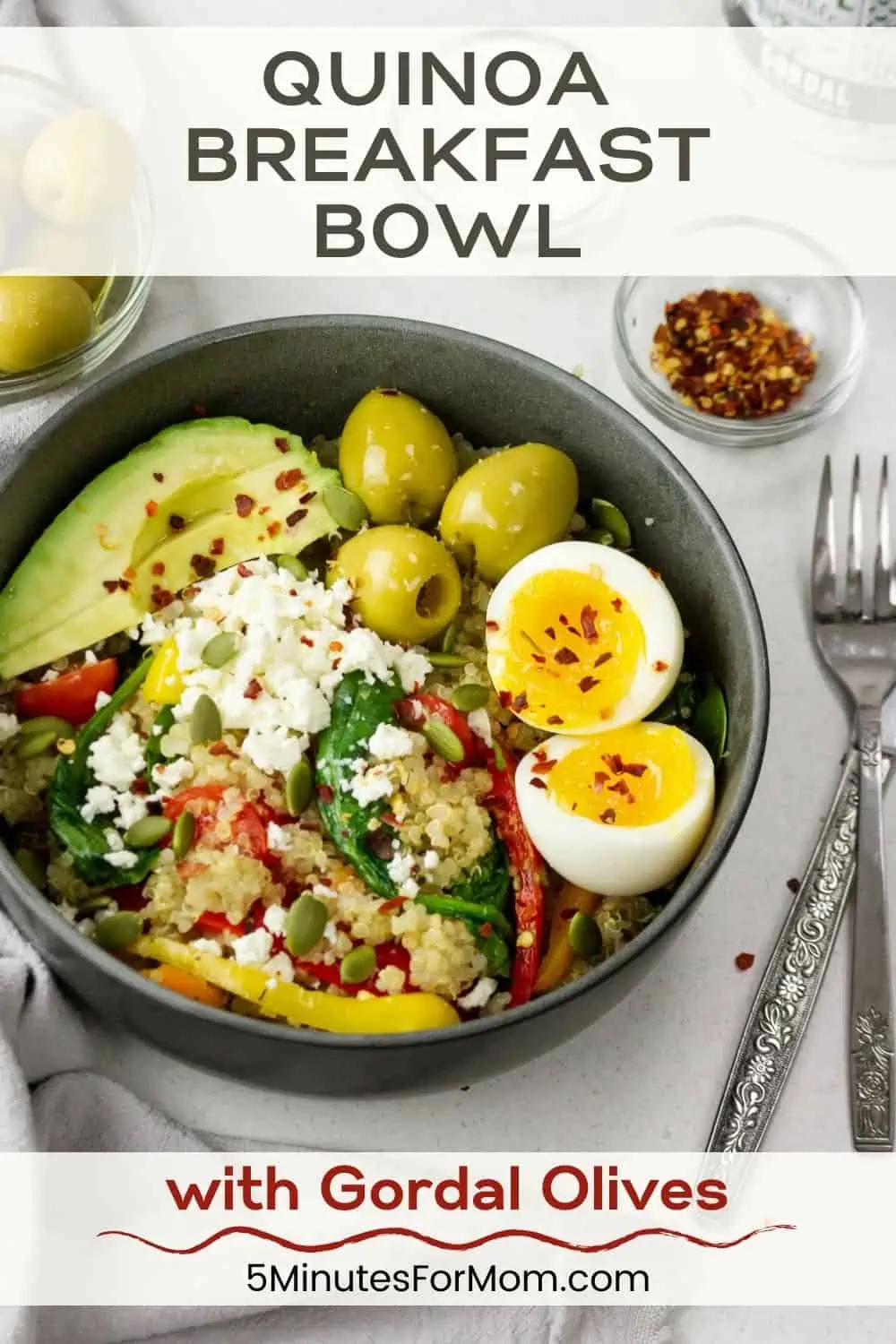 Disclosure: This post is sponsored, so extra thanks for reading and sharing.
Written by Janice Croze, co-founder of 5 Minutes for Mom
Talk with me: @5minutesformom and Facebook.com/5minutesformom
Pin with me at pinterest.com/5minutesformom
The content of this promotion campaign represents the views of the author only and is his/her sole responsibility. The European Commission and the European Research Executive Agency (REA)do not accept any responsibility for any use that may be made of the information it contains.

More Recipes You Will Love…
Don't miss these other delicious and healthy recipes…
Reader Interactions