This post may contain affiliate links. Read my disclosure policy here.
You gotta love 3M — those folks are just brilliant! I mean — can you image a world without Scotch Tape or Duct Tape?!?
Those clever designers are always hard at work and now they have come up with some wonderful new bandages featuring a unique diamond shape and a 360-degree adhesive seal around the pad that keeps out dirt and germs.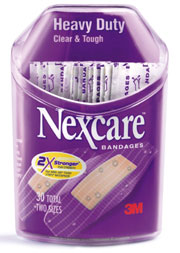 They come in various styles like the Heavy Duty – Clear and Tough, (my electrician husband who always has a ton of cuts on his hands will love those,) and the fabulously fun, Tattoo Waterproof for kids featuring characters like Winnie The Pooh to help turn tears into smiles.
(I also love the reusable plastic containers the 30 packs come in. They are perfect for holding crayons, hair elastics, trading cards, etc.)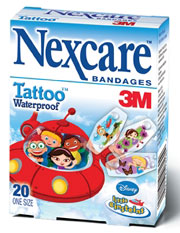 With spring here and summer around the corner, our kids will be outside scrapping knees and running to mom to make it all better. So I am going to be prepared with Nexcare Waterproof diamond shape bandages, to keep the dirt and germs out and the bandage in place.
And you can too…
While I have a a few boxes to keep us going, one of you is going to win a year's supply (45 BOXES!!!) of Nexcare Bandages for your family. That sounds more like a lifetime supply to me!!! 45 boxes will cover a lot of cuts, burns and scrapes – you will be able to cross bandages off the shopping list for at least the next three years!
So time to link up and win moms!
If you want the chance to have enough bandages to last you through this decade, just leave a comment and let your readers know about this contest on your blog. You can give a little link love to 3M too if you want. No worries — non-bloggers are always free to play as well.
Unfortunately, we have to limit this contest to US shipping addresses. But if you have a friend or family member in the states and you want the company to ship to them, that is totally ok.
Good luck! 🙂