This post may contain affiliate links. Read my disclosure policy here.
I've been struggling with thinning hair for many years. Today I'm going to start a Kiierr Laser Cap review which I will update every few months for the next year while I do unbiased test to see if this Low Level Laser Therapy (LLLT) Cap helps my thinning hair. I'll start with an unboxing video of a Kiierr Laser Cap and demonstrate how it works.
Please note: The company provided me with the Kiierr 272 Premier Laser Cap to test for this review video and blog post. But this content is not sponsored and I am not an affiliate.
Thinning hair and hair loss is incredibly common in women, but most of us are too embarrassed to talk about it. So I've decided to share my experience with hair loss and my attempts to slow the progression and ideally grow back some of my lost hair.
I've never blogged about this before… but I know I'm not the only woman struggling with hair loss. So I'm going to be brave and write about my hair loss journey.
Kiierr Laser Cap Review
I'm going to share more details of my experience with hair loss and the various treatments I've tried so far… but let's start with my unboxing video of the Kiierr Laser Cap.
What is a Kiierr Laser Cap?
First of all, you may be wondering… what is a Kiierr Laser Cap anyway?
It is an FDA cleared medical device that uses low-level laser therapy (LLLT) technology to regenerate hair follicles by increasing energy and blood flow. Ideally, a person should wear the cap for 30 minutes every other day to see improvement in their hair.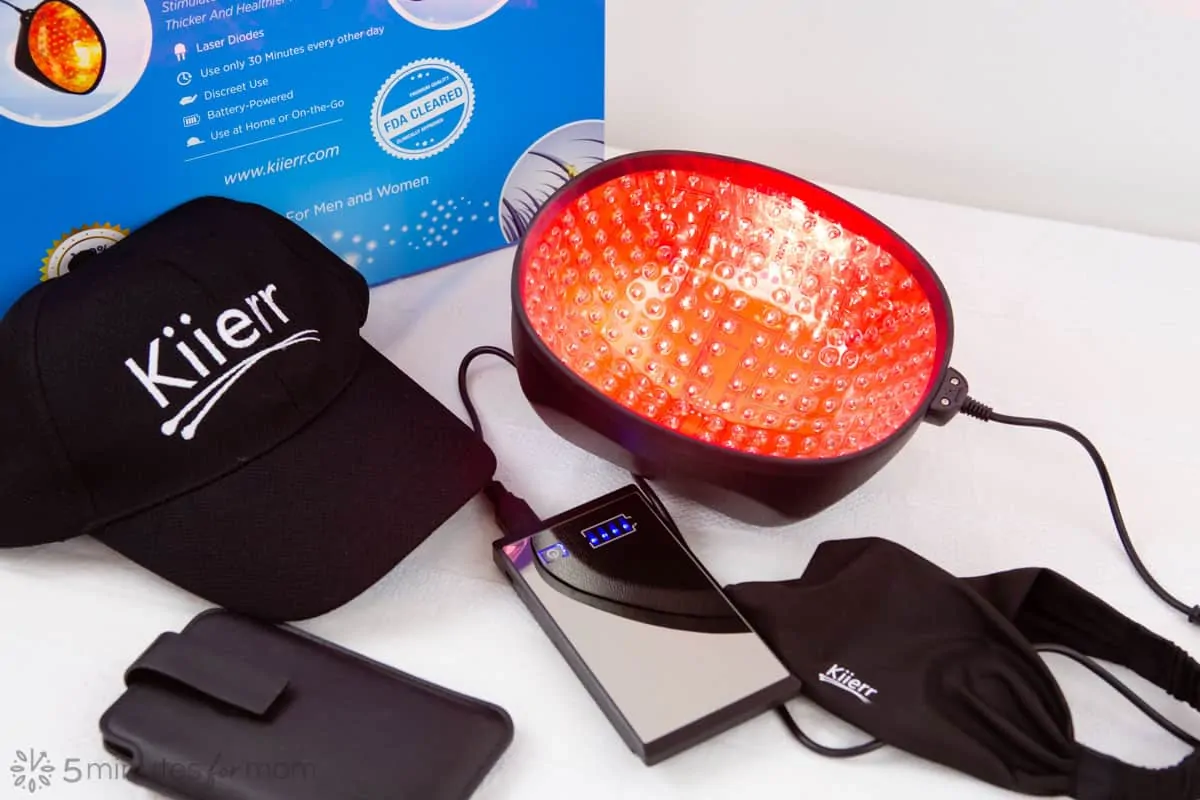 Using a laser cap is very simple. You just place it on your head and press the start button on the removable battery pack. It conveniently turns off automatically when 30 minutes have passed.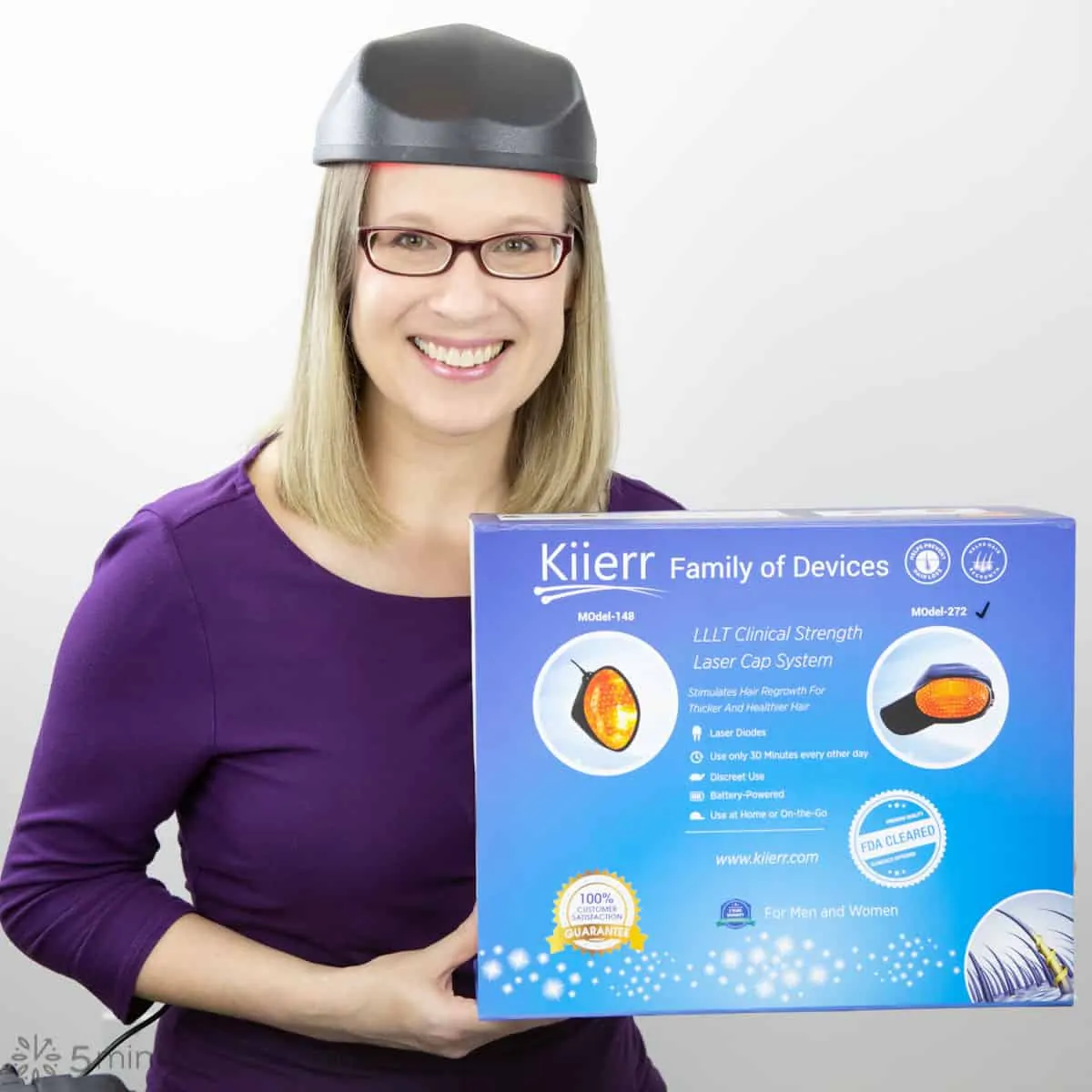 What Is Low Level Laser Therapy (LLLT)?
Low-level laser therapy (LLLT) is sometimes called red light therapy or cold laser therapy.
LLLT has a wide range of applications in dermatology and can stimulate healing, reduce inflammation, and help rejuvenate skin.
As this Health Line article explains, LLLT "irradiates photons into scalp tissues. These photons are absorbed by weak cells to encourage hair growth. It's widely accepted that the procedure is safe, tolerable, and less invasive than hair transplant surgery."
As this technology becomes more popular, you'll find many companies using low-level laser therapy (LLLT) in products to help restore hair growth.
On Amazon, you can find a few different brands offering hair growth laser caps like this one. While I assume many of them are similar, the one I tested is the Kierr brand and you can find it here on their website.

Are Laser Caps Safe?
Yes, if you buy an FDA Cleared laser cap, such as the Kiierr Laser Cap, you can feel confident that it is safe to use, as instructed for men and women ages 18 and older.
You can even read the FDA document clearing the Kiierr Laser Cap for use.
As it says on the National Center for Biotechnology Information, "LLLT for hair growth in both men and women appears to be both safe and effective.
Unlike taking medications for hair loss, there are no known side effects to LLLT and laser caps.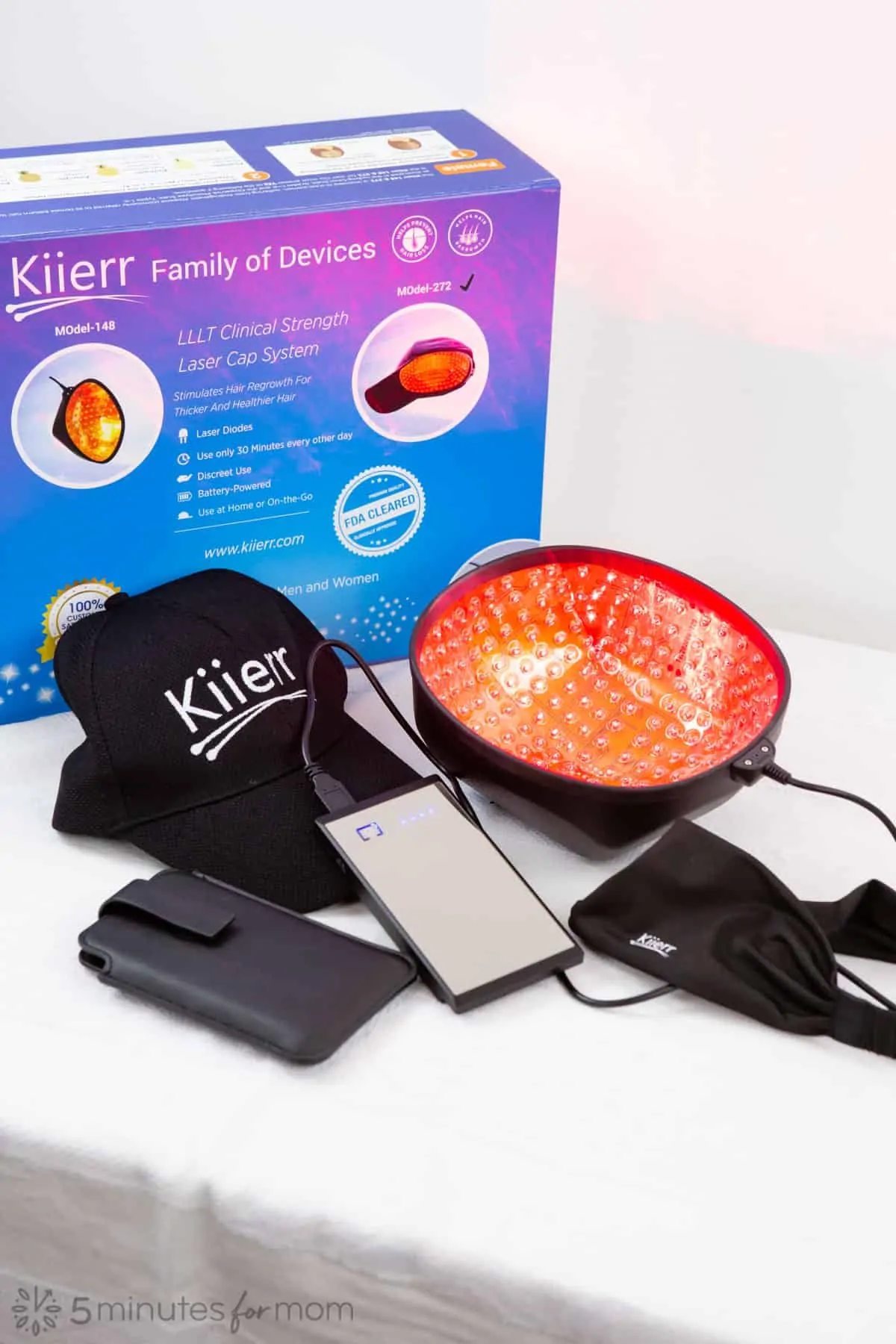 When Should You Start Using a Laser Cap?
You probably don't want to wait until your hair is as thin as mine is before you start LLLT treatment. The best time to start using a Kiierr laser cap is as early as possible in your hair loss journey. (Note that you need to be over 18 years old to use an LLLT device.)
You need to have at least "peach fuzz" level of hair. So it makes sense to start using LLLT when you start noticing your hair thinning. It will also strengthen and thicken your existing hair.

Why I'm Blogging About My Thinning Hair
To be honest, I've been thinking about blogging about my thinning hair for several years, but I kept putting it off. I didn't want to talk about it… and I really didn't want to take close up photos of my thin hair.
Aging can be hard for women, especially when it means losing your hair.
I'm 47 years old. While I may not have grey hair, and I actually don't have all that many wrinkles… my age has hit me hard around my waist and on my head.
I've been a single mother for a decade and I work incredibly hard to run my blogging business while raising my kids, which now also includes homeschooling them. (Thanks COVID!)
So while stress (especially in 2020) and nutrition may have some impact on the health of my hair, I have been to the doctor to confirm that my hair loss is likely genetic.
I have female pattern baldness, also called androgenetic alopecia.
And it's actually far more common than I realized, which is one of the reasons I decided to do this Kiierr Laser Cap review. According to WebMD…
"By middle age, 40% of women show signs of pattern hair loss (androgenetic alopecia), a genetically-based condition in which hair follicles gradually shrink and become less active, prompting budding strands to become wispy and stubby, shed more, and grow less."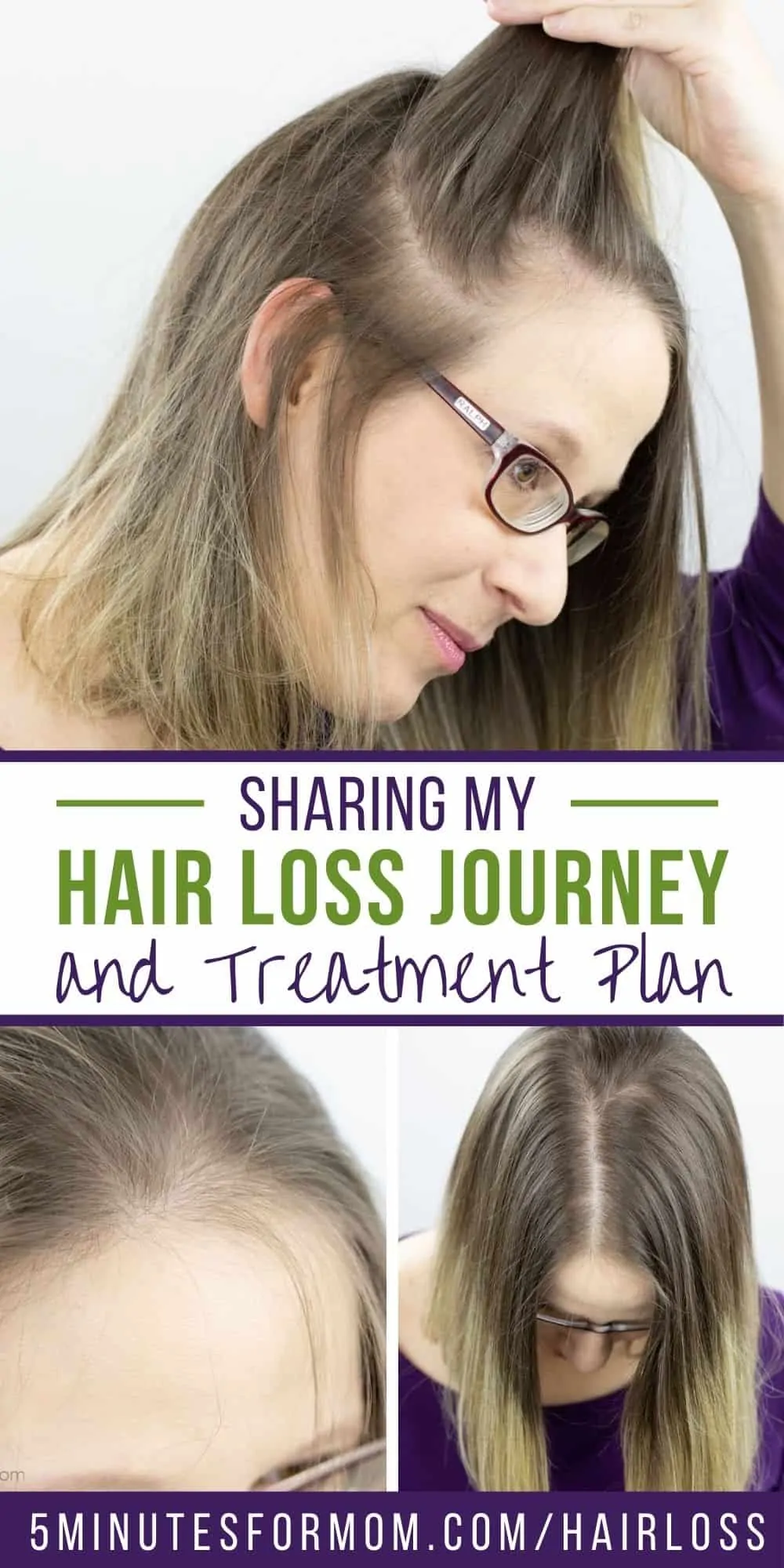 My Hair Loss Journey So Far
I started noticing my hair thinning in my late 20s. I went to a doctor who ran blood tests and told me I likely had a genetic predisposition for hair loss. He said I should wait until after I was finished having children and then start using Minoxidil, which is commonly known by the brand name Rogaine.
Minoxidil is the main medication to regrow hair. But it does NOT cure hair loss and if you stop using it, your hair will fall out again.
So I've always had in my mind that my last resort was going to be using Minoxidil.
But I have continued to put off starting Minoxidil because I know that once I start using it, I'll have to continue. I actually purchased some last January, but I still haven't used it.
My plan now is to this Low Level Laser Therapy (LLLT) cap for the next several months… and then perhaps I will also start using topical Women's Rogaine 5% Minoxidil Foam.
With hair loss, it can be helpful to try a few approaches to improve the health of your hair. For example, it's often a good idea to also use vitamins while using Low Level Laser Therapy (LLLT) like the Kiierr Laser Cap.

Other Hair Loss Treatments I've Tried
As I said, I first saw a doctor about my thinning hair in my late twenties and since then I've tried various treatments to try and reduce my hair loss.
But with many natural treatments for hair growth, you often can't really tell if they are working or not. The improvements in hair growth could be subtle or the treatment may be delaying hair loss, but it's hard to know for sure.
Most changes are subtle with any type of skin or hair product.
I've tried a couple of different shampoos that are supposed to help thinning hair. A long time ago, I used Nioxin, but I didn't notice much of a change. My hairdresser says that some of her clients have found that Nioxin helped their hair feel healthier.
I also tried Monat hair products, but I didn't find they worked well for my hair. I purchased a fair amount of them and used it for a year, but I won't be buying it again. While many of my friends love Monat, I found the price was high and I didn't see any positive effects on my hair.
I do plan on testing some other shampoos, so stay tuned as I will update here on 5 Minutes for Mom about any hair growth products that I test. This Kiierr Laser Cap review is just the beginning of what I plan to share about my hair loss journey.
As for vitamins, I admit that I haven't been consistent with my supplements. My stomach seems to be sensitive to Biotin and Iron supplements. I've tried a few different brands including Nature's Bounty Hair, Skin & Nails with Biotin and Collagen as well as Hairburst and a couple others that I can't remember. But it seems that Biotin tends to irritate my gut. It's very frustrating, because it seems commonly accepted that Biotin is good for your hair and I know that my Iron levels are rather low.
And I have used low-level laser therapy (LLLT) before, but not consistently.
About a decade ago, I purchased an LLLT wand similar to this one and I have used it on and off over the years.
I do feel like it helps my hair, but the wand I have is very old, so the technology isn't as good and I haven't been consistent with it.
Also, several years ago, I went to a clinic where I received some herbal topical treatments and had a few in-office LLLT treatments. I felt like the herbal topical treatments helped improve my scalp and reduce excess oil, but I don't think it really helped with my hair growth. As for the LLLT treatments in their clinic, those were far too expensive for me to continue.
So I'm excited to try this new Kiierr laser cap which I think will be easier to ensure I use regularly, every other day for 30 minutes.

Will My Hair Grow Back?
I'm cautiously optimistic that the Kiierr Laser Cap will help stimulate some hair growth and hopefully slow my hair loss.
But I'm very realistic. I know that Low Level Laser Therapy (LLLT) is not going to suddenly give me a thick head of hair.
For all of us who are struggling with thinning hair or hair loss due to a genetic predisposition for male or female pattern baldness, the main thing we need to realize is that there is no miracle cure to hair thinning and balding.
There are only various therapies and medications to help improve hair health and either help stimulate some new hair growth or reduce hair loss. But nothing is going to miraculously give any of us who suffer from hair loss a thick, full head of hair.
So while I know I will never get back to the hair of my teenage years, I'm still trying to take some positive steps towards keeping as much of my hair as possible.
And most importantly, I remind myself daily that I can not let my hair loss destroy my confidence and happiness.
It's true that thinning hair is very upsetting and it does hurt my confidence. But I try hard to keep my hair loss in perspective.
If you too are struggling with thinning hair, I feel your pain. And I hope that my story helps you feel less alone in your own hair loss journey.

UPDATE
It's now May 2022, and I've been using the Kiierr laser cap quite consistently ever since I published this blog post in December 2020.
I have been meaning to update with photos and a video, but I got so busy and didn't get it done.
Overall, I've been happy with the results of using the Kiierr laser cap in maintaining my current hair level. I was consistent with using it for several months and then I got a bit slack and neglected it and wasn't consistent for a few months. But then I started back again and I feel like it helped but my hair is still thin and pretty similar to when I started.
So now I have just begun to also start using topical Women's Rogaine 5% Minoxidil Foam to ensure I maintain the hair I still have. I put off using Rogaine until now (I'm almost 49 years old) because I know I will have to use it daily from now on.
Using Rogaine is a bit of a hassle in that you have to apply it each night. I normally like to shampoo every 2 or 3 days, but now with using Rogaine at night, my hair feels dirty faster… so I tend to shampoo daily or at most every other day.
I'm still consistently using the hair loss cap while adding Rogaine to my routine.
Overall, I would recommend the Kiierr laser cap to maintain and give you a bit of hair growth so you can put off using Rogaine as long as possible.
I will try to update this post soon with new photos of my hair as it is now.
On Amazon, you can find Rogaine for Women here and Rogaine for Men here.

Don't Miss Our Other Reviews…
Please note: I was sent a sample Kiierr Laser Cap to review. But this is an unbiased review and is not sponsored and I am not an affiliate.
Written by Susan Carraretto, co-founder of 5 Minutes for Mom
Talk with me: @5minutesformom and Facebook.com/5minutesformom
Pin with me at pinterest.com/5minutesformom