This post may contain affiliate links. Read my disclosure policy here.
Jess from O Mama Mia! wrote to us and told us about the most heart-warming and brilliant mom-invented product…
Daddy Dolls!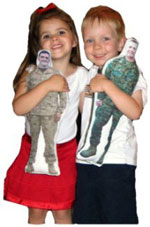 Jess said:
"Daddy Dolls began with two military wives who wanted their children to have something that kept their deployed husbands in the children's minds & hearts. So they created Daddy Dolls.
You can send them a photo of Daddy & they print it on a doll, or pillow. It has since branched out & they make Mommy, Gramma, Grampa, Aunts, Uncles… you name it. You can also send them a picture of your child's artwork & they will make it in to a pillow for a loved one.
Amazing & unique concept. I applaud these Mommies' ingenuity."
We have added Daddy Dolls to our Shopping Directory and our Mom-Owned Stores page.
See a photo of the inventors on their feature page.