This post may contain affiliate links. Read my disclosure policy here.
This summer we will all be staying close to home and spending more time with family and friends in our outdoor living spaces. So we are sharing some outdoor living space ideas that won't cost a lot of money and will help you make the most of your outdoor space… even if it's only your driveway!
This article includes suggestions from some of our sponsors and affiliates.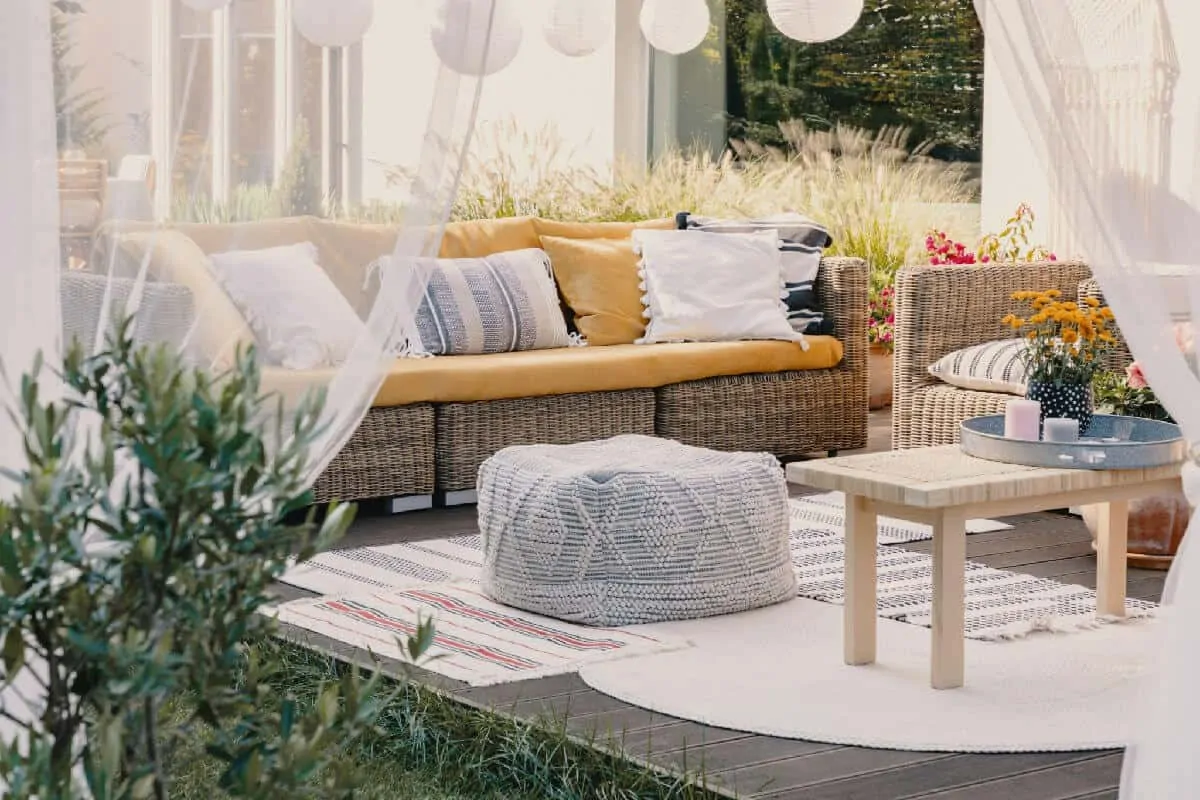 I confess that I feel envious when I see my friends' photos with huge backyards with space for tons of furniture.
I live in a townhouse with a small backyard, a small deck just off my kitchen, and a driveway with a tiny patch of grass in the front. Janice is luckier… she has a slightly larger backyard area and she has a lovely front lawn where our mother loves to plant flowers.
But regardless of how large or small your outdoor living spaces are there are many simple ways you can make the space more inviting and inspiring for your family to spend time together.
7 Outdoor Living Space Ideas On A Budget
Add Lights
The easiest way to upgrade your outdoor space is to add lights.

And when you add light to your yard, deck, driveway, or any other outdoor space, you invite your guests to stay all day and into the evening.

Not only do lights allow you to stay out late enjoying the summer evening, the lights help keep your property secure.

These LITOM Landscape Spotlights are waterproof, wireless, and solar powered. They are perfect for lighting up your yard, garden, driveway, porch, walkway, pool, or patio.

Luckily, they're super affordable and you can get them on Amazon.

Have Extra Seats Available

Even if you have a full outdoor sofa set, get some extra fold up chairs so that everybody in the family can have a seat.

It's also nice to have didn't types of seating. For example, you may want to have a lounge chair for when you want to lay out in the sunshine, but also have a table with chairs to eat meals.

Kids size seating takes up less space, so be sure to get the kids some cute furniture they can call their own.

Outdoor furniture doesn't have to cost a lot. You can scale down or up based on your budget. And remember that second-hand scores are waiting everywhere. Check out Facebook Marketplace and you just might find an awesome deal.


Plant Flowers, Fruits or Veggies

Even if you only have a small balcony, you can plant a container garden with flowers, fruits and vegetables.

Whether your garden is large or small, tending to your plants is a wonderful way to spend time with your kids and teach them about growing their own food.

If you have big backyard, you can plant a lovely garden and add lights to bring it to life in the evening.

Protect Yourself From The Sun

Adding a patio umbrella for sun protection will help you and your kids enjoy time outside without getting sunburned.

An umbrella will also help protect your furniture from bleaching in the sunlight. You can also get creative and make a DIY canopy to drape over a lounge chair.

Set Out Pillows and Lay Down A Rug

I love having an outdoor rug on my deck. It's a simple way to make even a small space feel so put together.

And you can make your outdoor living spaces super cozy with extra throw pillows.

Keep Toys and Games Nearby

Whether you have kids or not, everybody loves to play a good game!

Set up a space to organize some outdoor games and toys like frisbees and beach balls. You can even make a DIY glow-in-the-dark bowling set for hours of fun into the evening.

And also have classic board games kept in safe place protected from the weather but ready to break out for a family game night.


Add a Special Space for Kids

If you have kids, make a special play space for them. A kids tent is a unique way to add a place where they get some relief from the sun and play with their toys.



Whether you're blessed with a big backyard or you're simply soaking up the sun on your balcony, treat yourself to some of these easy outdoor living space ideas.
As you enjoy extra time at home this summer, you and your family will love having a comfy and inspiring place to spend time outside.
Pin it for Later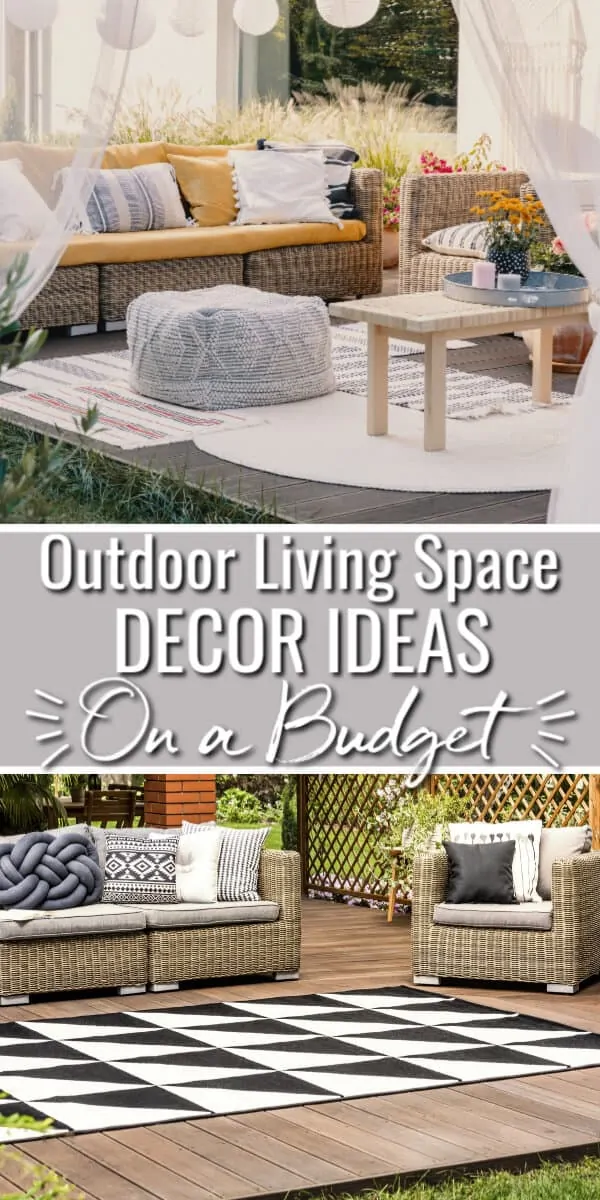 Disclosure: This post includes suggestions from some of our sponsors and has affiliate links.
Written by Susan Carraretto, co-founder of 5 Minutes for Mom
Talk with me: @5minutesformom and Facebook.com/5minutesformom
Pin with me at pinterest.com/5minutesformom