This post may contain affiliate links. Read my disclosure policy here.
There is never enough jewelry…
So we are giving away more – thanks to our friend Alli from Alli's Originals.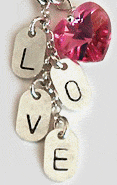 You may remember Alli – we had a contest with her in February. You all loved her so much and Alli was just so happy to be here, that she asked if she could return for an encore!
We already knew how fabulous her work was, so we of course said "Yes!"
Now just to refresh your memory – and to get you drooling – here are a few shots of her pieces.
This is the piece Alli sent me to review back in February.
It is the Darling Discs piece from the Princess Charming Collection with Jackson and Julia's names engraved on the discs. (I will have to add two discs in October with Susan and my new babies' names!)
When I first looked at Alli's site,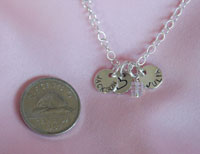 I didn't realize how tiny and delicate the jewelry would be. I was so pleased when I received it and discovered how elegant it is. I chose the regular, 16" chain. It fits loosely around my neck and is a great everyday charm necklace.
So to help you get the idea of the size of the pieces – I took a photo of my necklace next to a nickel.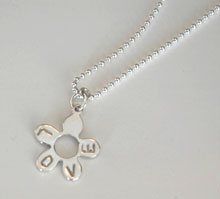 This time, Alli is offering our winner a $40 gift certificate, and she will cover the tax and shipping. (Alli is located in Canada, so that is in Canadian dollars. She will ship to both Canada and the US.)
Alli is also offering our readers a 10% discount. Just mention 5 Minutes for Mom and she will email you a new total before you pay.
Alli's work is wonderful and I am sure you will love your pieces as much as I love mine! Many of Alli's designs would be a perfect gift for a young girl or teenager.

And of course – you are supporting a work at home mom!
So hop on over to her site and take a look at what you want to get when you win!
To enter to win, leave your comment at this post. If you are new to the Mother's Day Giveaway, you can read the rules and find links to the other contests here.
Good Luck Ladies! 🙂