This post may contain affiliate links. Read my disclosure policy here.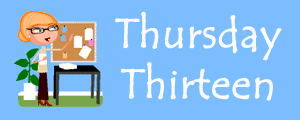 Banner by Chaotic Home
13 Things That Make Me Smile
Since last week I think I may have scared a few people into thinking I'm always stressed out, here are some things that make me happy.
My son Jackson's squeals of delight when I pick him up from school (Okay – about a million things about my son Jackson make me smile, laugh, cry, etc. But that would be a very long list.)
Really good ice cream – throw in a warm brownie and things are really looking good
Cuddling up to watch one of my favorite TV shows
Movie dates with my husband
Eating fish and chips at the beach with my husband and son
Julia laughing and showing off all her little baby teeth
Taking a good photograph
Completing a scrapbook page
Getting comments on my posts
Those moments when you just feel God had you in the right place, at the right time and you actually listened to what you were supposed to do.
Writing (on the good days, when it works)
Blogging buddies
My family – all of them – my hubby Phil, my son Jackson, my Mom, my twin sister Susan, my niece Julia, and my other nieces and nephews…
Get the Thursday Thirteen code here!
The purpose of the meme is to get to know everyone who participates a little bit better every Thursday. Visiting fellow Thirteeners is encouraged! If you participate, leave the link to your Thirteen in others comments. It's easy, and fun! Be sure to update your Thirteen with links that are left for you, as well! I will link to everyone who participates and leaves a link to their 13 things. Trackbacks, pings, comment links accepted!
View More Thursday Thirteen Participants