This post may contain affiliate links. Read my disclosure policy here.
Julia had her first taste of Italian rain.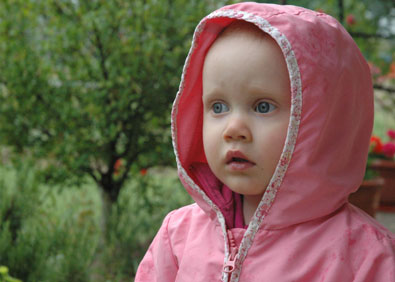 The last two days brought a different type of entertainment for our little Jules — Italian thunder showers.
She was very impressed.
The rain here is very different from our Pacific Northwest non-stop rain which pours continually but without much gusto. Here in Italy the rain doesn't come very often, but when it does, it puts on a show.
One moment the sun will be shining and then you'll see dark clouds quickly moving in. Before you know it rain is pouring down like a shower with a supercharged spray nozzle. And the rain often brings along his friends thunder and lightening to entertain the crowd.
On previous trips, I've seen several spectacular displays of lightening, thunder and massive balls of hail.
But Julia fortunately had a slower introduction to such powerful weather. Even though we heard lots of thunder, we didn't see any lightening around our little farm.
And Julia LOVED the thunder!
She went outside with her Daddy and Nonno to 'watch' the thunder. They sat under the covered veranda watching the rain fall and listening to the thunder.
When Julia came inside, she came running over to me to tell me all about it. She was adamantly waving her arms about in a sign that I've never seen before and I'm sure doesn't mean anything. She had her left arm raised straight up above her head and her right arm crossed over her chest with her fist touching just below the shoulder of her raised arm. I said 'thunder' and she cried 'yes' and repeated the sign.
Apparently, since she didn't know a sign for 'thunder' she invented her own.
She continued to use her new thunder sign regularly as she talked about the wonderful thunder storms that continued to come and go for the next couple of days.