This post may contain affiliate links. Read my disclosure policy here.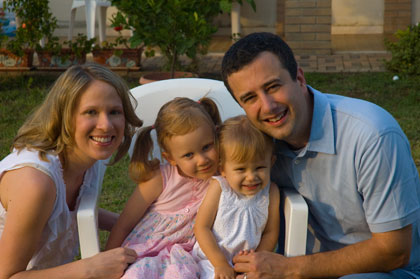 It amazes me just HOW much little children cherish family time.
Maybe it's because I mostly remember my preteen and teen years and how at those ages we all tend to fight against forced family time… but I am astounded at how much little ones crave activity with ALL their loved ones joining in at the SAME time.
For my girls, going to the swimming pool becomes so much more special if Mommy AND Daddy come along. A trip to the library is better with both Mommy AND Daddy.
I have to admit, I used to try to increase productivity by having one of us take the girls to do an activity while the other one got some work done. But I finally have given in and taken weekends as full-time family time.
My girls love it. (But it is hard not getting any work done on the weekends. My rocking horse and pedal car stores are suffering from it and my inbox grows during the weekend neglect.)
This last weekend we ALL went to the library twice, we relaxed at the shopping mall and let the girls enjoy multiple rides on the coin operated merry go rounds. We went swimming, went out to eat, and read stories for hours.
I can feel the investment in our family paying off. It is worth it.
So I'm wondering, what activities do you and your family do together? What ages are your children — are they still loving family time? I'm curious to hear what family time is like for families with older children (since mine are only 4 and 2).
And please let me say, that in this post I refer to Mommy AND Daddy simply because that is what our family includes. I do NOT mean to say that all families must include two parents or that family time is not as meaningful without. Clearly family time is about having a child's loved ones together.

Written by Susan, Professional Mommy Blogger and Co-Founder of
5 Minutes for Mom
You've got our feed in your reader, right?
Let's tweet! Catch me @5minutesformom.