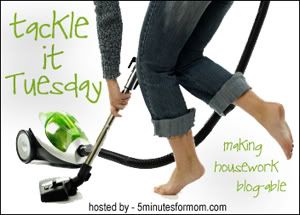 Too full to tackle…
Tonight, I had plans for my tackle. I even have my before pictures.
But, after giving into Jackson's pleas to stop at a fast food restaurant for dinner, now I feel too full to tackle.
Yes, the best way for me to keep from eating fast food is to indulge every so often. Then I feel miserable and I have no desire to touch a french fry for at least a few months.
Now, don't get me wrong, I can pound back dessert like there is no tomorrow. I don't have a sweet tooth — I have a whole mouthful! And I enjoy myself some french fries every now and then.
But french fries and chicken strips, followed by ice cream?!? Well, right now I am really regretting my decision to pull into that parking lot! I feel awful and in NO mood for tackling anything. (If only my own mother had been there to remind me, "If you eat all that you are going to get a stomach ache!")
I am usually pretty good at resisting. (Normally, I just steal a few fries from my kids' meals and order myself a salad or a wrap.) But those salty, yummy fries were irresistible tonight.
My big mistake was to top it all off with ice cream! LOL But remember that sweet tooth I mentioned?
I just want to curl up with a jug of water and my pillow and wait till morning comes, when it is all just a greasy memory.
In my defense, this weekend I did tackle the LOUDEST birthday party ever. Yes, Jackson turned eight and we had a great, albeit very loud, time. Check out the photos here.
Oh — and tell me — what are your weaknesses when it comes to over-indulging? Do you hit the drive through, call the delivery man or raid the ice cream in your freezer? (I usually go for ice cream. But as I said, every once and awhile the salty fries win me over!)
What have you been tackling in your life?
Tell us what you're up to with all your other tackles… housework and otherwise… add your link to your tackle in the Mck Linky below!
Each week on Tuesday, we are posting before and after pictures of a project or trouble area that we tackled this week.

Find out more about Tackle It Tuesday here.
The project can be little or big – whatever you want.

Basically, Tackle It Tuesday is about giving ourselves incentive, deadlines and satisfaction in getting our household tasks done.

(It doesn't even have to be housework… just whatever is on your To Do list.)
If you tackled a project this week, just add a comment and add your link below.
Happy tackling ladies…
Written by 5 Minutes for Mom co-founder Janice. Yes, I am a Mommy Blogger, but I really prefer the term, Mom Blogger.
Do you have our feed in your reader?
Did you know that Susan and I own two online toy stores where you can find a pedal car or an inspiring toy kitchen for your children. 🙂