This post may contain affiliate links. Read my disclosure policy here.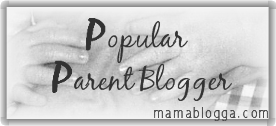 A few weeks ago, MamaBlogga honored 5 Minutes for Mom with the number one spot on their Popular Parent Blogger list. The list contains many of our favorite reads and we were thrilled to be on the list! Thank you MamaBlogga!
Today MamaBlogga posted a short interview I did with them talking about fulfillment in work and motherhood. You can click on over to read my interview, but most of all, click on over to their Popular Parent Bloggers list and visit some fantastic bloggers!
And while I am thanking people, I would like to thank Overwhelmed with Joy for giving us the Thinking Blogger Award. Since I already participated in this fun award tag, this time I will just say a big thanks to Overwhelmed with Joy – we really appreciate you including us!